In the wake of Hurricane Maria, three Best Buy stores and a distribution center in Puerto Rico all sustained significant damage. But the company's immediate recovery efforts focused on helping employees there.
Best Buy chartered a small airplane to get badly needed supplies — including food, water and diapers — to our employees on the island. We also used it to fly employees to the U.S. mainland. In all, 47 employees and 29 family members chose to leave the island.
One year after Hurricane Maria, some of those employees have returned to Puerto Rico while others have chosen not to. We reopened one store last December and another one this week; a third is expected to open later this year.
We asked four employees to share their stories.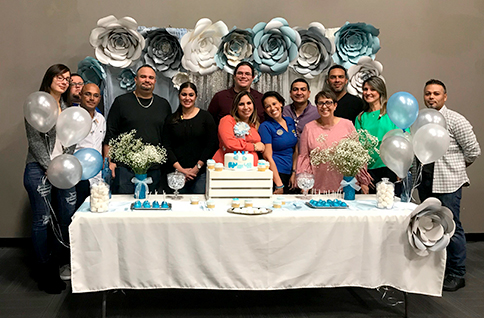 Pregnant and away from home
When Hurricane Maria battered Puerto Rico, Natalia Alverio was seven months pregnant and diabetic. With no electricity or reliable communication, she and her husband decided to temporarily relocate to Miami with their 2-year-old son.
They didn't know anyone there, but Best Buy provided a hotel room and a job for Natalia's husband. Natalia continued to receive a paycheck even though she was unable to work, and Best Buy's human resources team helped transfer her health insurance to a new plan that would work on the U.S. mainland.
Best Buy employees in Miami even surprised Natalia with a baby shower at one of the local stores. "There was cake and food. Everything was so beautiful," she said. "They bought me my stroller, my car seat, clothes — everything I needed."
Natalia gave birth to a healthy baby boy at a Miami hospital on Nov. 27, 2017. About six weeks later, she and her family returned to Puerto Rico.
Now she's back at work at Best Buy, where she was recently promoted. She's glad to be home, but she recalls her time in Miami fondly.
"It was a really great experience," she said through tears. "I am very grateful that Best Buy was my family in that moment. I'll never leave this company. In a moment of sadness, they showed me how happy I could be."
Work family helps with adjustment
In the early days after the hurricane, supplies were hard to find.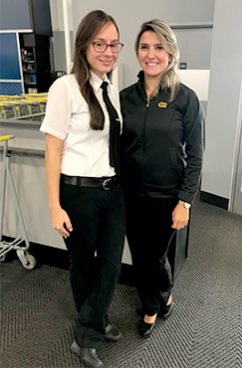 "It was terrible," Geek Squad Agent Lilibeth Lugo recalls. "Nothing was open. You went to the stores, and there was no food or anything, but the company gave us water and food."
Like Natalia, Lilibeth chose to leave island. The single mom worked at Best Buy stores in Miami from October until July so she could send money back home to her extended family in Puerto Rico.
For the first couple of months, her 8-year-old daughter and 6-year-old son stayed with relatives on the island. They talked every day, and the hospitality of her managers and co-workers in Miami made it easier for her.
"It was amazing. They gave me love and support," she says. "Maybe they don't know how much they helped me, but they did a lot."
A new start in Miami
Wilson Diaz and his wife moved to Miami about one month after the storm, and they haven't been back since.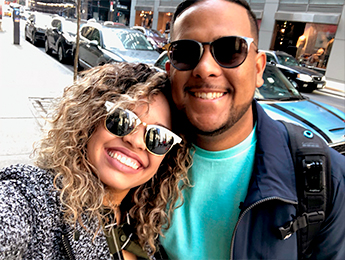 Wilson, who's been with Best Buy for 10 years, was a computing supervisor in Puerto Rico. He has now been promoted to sales manager at our Doral store in Miami.
"My wife and I had talked about [moving to the mainland] but never took it seriously until this happened," he says. "We saw this opportunity as a life-changing experience."
It's hard for Wilson to be away from all his family and friends, but he says Miami is now his home.
"It was a very difficult decision, but I really don't regret it," he says. "We have a better life here."
Taking care of family
While many people were leaving Puerto Rico, Felix Hernandez was just arriving.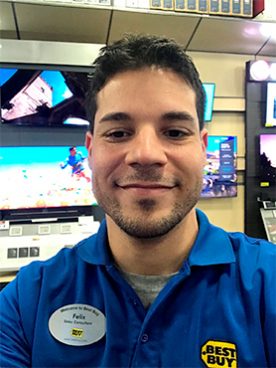 Felix, 27, grew up on the island but moved to Florida in 2012. After Hurricane Maria, he returned to care for his father, who was badly injured in a fall while making post-storm repairs to his home.
Felix's father came to Florida for a while to be near Felix and his sisters, but he missed Puerto Rico, the only home he's ever known. So Felix, who is single and has no children, volunteered to go back with him.
"He's slowly getting better, but he can't be by himself all the time," Felix says.
Felix, who had worked at a Best Buy store in Orlando, Florida, now works as a sales consultant in the home theater department at a store in San Juan. He hopes to someday return to Florida but plans to stay with his dad until he's better.
"The managers here in Puerto Rico have been really supportive since Day One," he says. "They still are."