The school year is in full swing, and all those new back-to-school gadgets are (hopefully) being put to good use. Now, the goal is to keep them that way.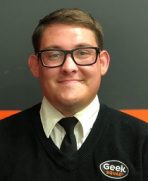 College-bound students spent the biggest chunk of their back-to-school budgets on consumer electronics this year,* and unfortunately (but not totally surprising), 18-to-24 year-olds are more likely than the general population to have accidents with their tech. College students are especially at risk for tech mishaps**.
Aaron Perkins is a senior at West Virginia University, and he's also a Geek Squad Agent at our store in Morgantown, West Virginia. He has seen his share of broken devices on campus. Here are some of the biggest tech accidents, and his advice on ways to prevent some of the most common tech tragedies.
64% of students have accidents with their smartphone
"While carrying your phone on campus always be cautious of what you put into your pocket with it," he said. "Magnets and keys are simple everyday things that can scratch your phone or mess up the internals of the device itself. Also, keep your phone in a secure bag or pocket while you move around, and get a screen protector and highly protective phone case."
41% of students drop or scratch their laptop or tablet
If you're going to put your phone in a case, why wouldn't you do the same for a laptop or tablet? "This will prevent it from getting scratched and add another layer of protection," Agent Perkins said. "It's also important to remember that your laptop or tablet is in your bag and not just throw your bag on your bed or drop it on the floor."
30% of students break their headphones or earbuds
"Best practice for headphones and earphones while on campus is keep them protected in some sort of case or wrap when you're carrying them around and not using them," he said.
24% of students drop or damage their gaming console
"When transporting gaming consoles, remove any games and wrap the console, without any cords plugged into it, in a blanket or with clothes for padding," Agent Perkins.
Despite best prevention efforts, accidents do happen. That's why it's a good idea to know your options when it comes to protection plans, warranties and support programs. One great option for basic software fixes that covers all your devices is Total Tech Support.
For more information on Geek Squad Protection plans and tips to protect your tech on campus, visit a Best Buy store or visit BestBuy.com.
*National Retail Federation https://nrf.com/media/press-releases/back-school-and-college-spending-reach-828-billion
**Best Buy Device Accident Survey fielded in March 2017 with nationally representative sample of 1,342 college students age 18-24.