To support students and build a diverse talent pipeline across the country, Best Buy has committed to provide $44 million to expand college prep and career opportunities for Black, Indigenous and people of color (BIPOC) students.
As part of those efforts, we partnered with the United Negro College Fund (UNCF) to launch a scholarship fund that helps reduce financial barriers for Black students attending historically Black colleges and universities (HBCUs) and prepares them for the tech-reliant jobs of the future.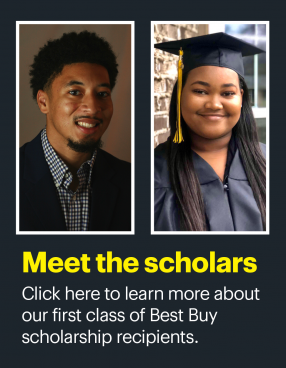 We have committed to supporting a minimum of 24 students over the next eight years. Each scholar is eligible to receive up to $20,000 in financial assistance each year for four years.
"UNCF is incredibly thankful for Best Buy's continued interest in the academic success of HBCU students," said Dr. Michael Lomax, UNCF's president and CEO. "The scholarship and career training opportunities these scholarships provide are invaluable and will undoubtedly propel our students for success in the 21st century workforce."
For the 2020-2021 school year, we selected four students attending HBCUs to be part of the inaugural class of Best Buy Scholars. Click here to learn more about them.
"We are committed to the next generation of leaders and to making sure they have the skills, tools and resources they need to be successful throughout college and beyond," said Mark Irvin, Best Buy's chief inclusion, diversity and talent officer. "We're proud of our Best Buy Scholars, and we look forward to being there for them as they unleash the possibilities in their futures."
From the classroom to the workplace
Through this partnership with UNCF, we will work together to not only provide the financial support students need to cover their educational costs but also help them develop the skills they need to begin their careers.
In addition to providing tuition support, each scholarship recipient will also receive:
Up to two paid summer internships at Best Buy's headquarters in Minneapolis for relevant, on-the-job experiences.
Dedicated career and success coaches to help guide career paths.
Mentors throughout their college tenures, including in-person and e-mentorship opportunities.
The scholarship fund is part of the commitments we recently made to better address underrepresentation, technology inequities and educational and career opportunities within our company and communities. In addition to this HBCU scholarship, we also launched an endowment scholarship fund for students to attend the University of Minnesota's Carlson School of Management.
As part of our commitment, we will also expand college prep and career opportunities for Black, Indigenous and people of color (BIPOC) students and increase scholarship funding for youth at Best Buy Teen Tech Centers across the country. We plan to build a network of at least 100 Best Buy Teen Tech Centers to provide teens with the tech skills and mentorship they need to succeed.
We are committed to doing better and initiating positive change. In 2020, we were named Top Employer For Historically Black Colleges And Universities and are committed to hiring 1,000 new employees to our technology team, with 30% of them being from diverse backgrounds–specifically Black, Latinx, Indigenous and women.
Click here to learn more about our commitment to help young people across the country.