From reducing our carbon footprint to making the products we sell and packaging they come in more sustainable, we're committed to making a positive impact on the environment and helping our customers do the same.
Starting this month, the outer box packaging of some TVs within our own Insignia brand, both in the U.S. and Canada, is being made with sustainably sourced paper that is certified by the Forest Stewardship Council (FSC). This ensures that packaging comes from responsibly managed forests that provide environmental, social and economic benefits to help protect the planet — today and tomorrow.
"Our sustainability journey has pushed us to continually find new ways to innovate within our operations and beyond," said Tim Dunn, Best Buy's head of environmental sustainability. "This certification ensures that more than 6 million pounds of paper annually are responsibly sourced, and it is another step in Best Buy's continued journey to protect the environment."
To continue making our packaging more sustainable, we joined the Sustainable Packaging Coalition, a nonprofit organization driving meaningful action toward packaging sustainability throughout the value chain. Additionally, we have participated in the "I Want To Be Recycled" campaign since 2015 to motivate communities across the country to recycle.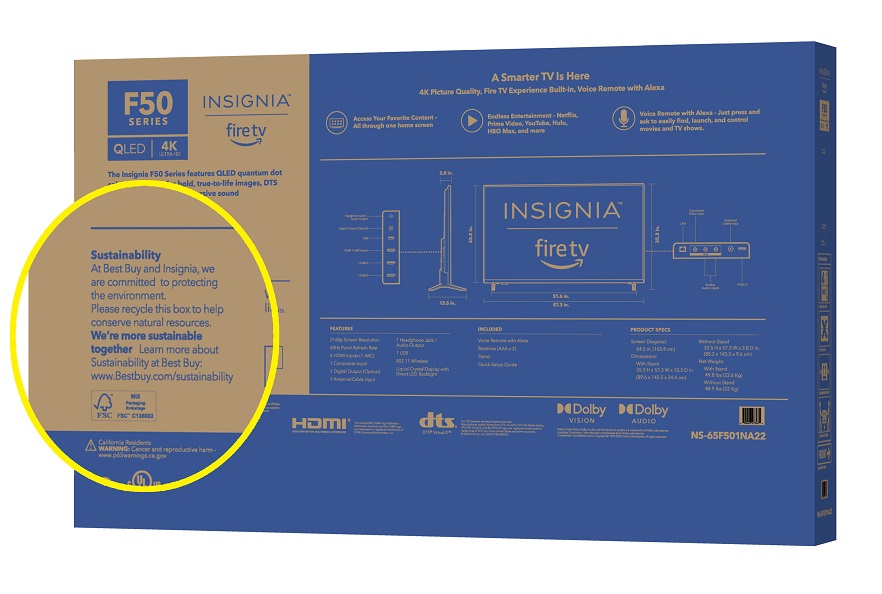 Building a sustainable future with customers
We're committed to partnering with our customers to help take care of the planet with purchases they make in-store and online. That makes it easier for them to incorporate sustainability into their lifestyles.
To do our part, we've set two ambitious environmental goals: committing to be carbon neutral across our business by 2040 and reducing carbon emissions for our customers by 20% by 2030.
We've made significant progress in our operations and in helping customers reduce their emissions. Since 2019, we have reached several key milestones, including reducing carbon emissions in our operations by 60% and launching a sustainable product category for customers. Additionally, our Reverse Logistics Center in Chino, California, recently earned Best Buy's first TRUE certification for zero waste.
Together with our customers, we will be able to help the environment in a big way.
Click here to learn more about Best Buy's sustainability efforts.