For most runners, a marathon is the accomplishment of a lifetime. For others, like Luis Montoya, 26.2 miles just won't cut it.
Luis, an employee at the Best Buy store in Warwick, Rhode Island, started running seven years ago to lose weight and get in better shape. He ran a 5K, then a 10K, a half marathon and finally a full marathon. But he didn't stop there.
Luis, 53, now runs ultramarathons. He has completed races of 32 miles and 50 miles, and he's currently training for a 100-mile race.
To celebrate National Running Day on June 6, we chatted with Luis to learn more about his love for running and how he uses tech to help get him across the finish line.
Why did you start running?
I was 47 years old and had gained 30 pounds. My pants didn't fit, and I was starting to have some health problems. I used to run when I was in the Navy, so I decided to start jogging. To run better, your diet also needs to improve, so it was a win-win. I fell in love with the progress I saw.
How did you get started with races?
I didn't like running just for the sake of running. I wanted to get something more out of it, and I loved that races gave me measured results that I could compare to others in my age group. I usually run a race once a month. In 2015, I ran a marathon before my shift and wore my medal to the store to show my co-workers.
What drew you to ultramarathons?
I love spending time out and away from the mundane tasks of work and chores. I plan those around my running. I could choose to sit around in my free time, but that leads to bigger pants. While I run, I work out challenges I may be facing in life or just daydream about goals I would like to achieve.
After my first marathon, I looked for the next distance and learned more about ultrarunning. I signed up for a 50K (32 Miles) in October 2014, then decided to go for a 50-miler in Vermont in 2015. I trained all year for the race, but I did not finish. I did not get past 31 miles. My nutrition during the race was not up to the task. I ran out of energy and had major cramps. I vowed to return in 2016 and finished in 10.5 hours.
What is your training routine like?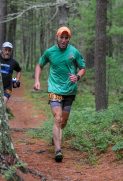 To get good at running you have to keep doing it, but you have to be smart and take rest days. Resting is just as important as the running. I usually run every other day, but I take an extra day off after a long run of 14 miles or more. Every run has to have a reason, whether to go slow to burn fat, do wind sprints to gain sped, run hills to get stronger or run long distances to get used to the time on your feet.
This year, I have been running 100 miles every month, but that will have to increase in June and July as I prepare for my 100-mile run in Bristol, Rhode Island, on Aug. 17.
How long will it take to complete a 100-mile race?
My goal is to finish in 24 hours. This will be my first 100-mile race, so I will do the training, put in the effort and do my best. If I finish inside of 24 hours, I will be awarded a belt buckle! (Most races give you a finishers medal.)
100 miles is almost as far as running four marathons. Do people think you're crazy?
Yeah, I get lots of jokes — people will laugh and say, "I don't even like to drive that far." After I did the 50-miler, I thought I never wanted to go that far again, but here we go.
How do you use tech while training?
I started with a smartphone app, but it didn't give me enough information. So, in 2014, I picked up a Garmin Forerunner watch to help me find my maximum heart rate and other measurements like vertical oscillation and cadence. I'm now on my third watch, a Garmin Fenix. It provides me with real-time stats while running and all the numbers I need to track my progress over time. And it doesn't need a phone for the GPS function, which has saved me a few times when I have gotten lost.
I also use wireless headphones that have built-in artificial intelligence, which actually gets to know you better the more you use it. It can tell you your pace and heart rate, where you are in the race and how far you have to go to the finish. It tells you if your step rate is off and when to speed up before the finish. It will even tell you if there is a storm coming. And obviously the music sounds amazing.
What advice do you have for others?
I run to improve my life and to set a positive example of what is possible — plan, prepare, execute. And I tell people, it does not have to be running. Find something you love, and love doing it. Challenge yourself! Create an app, fly a drone, film a movie, produce a song, get your book published, compete in gaming tournaments or get a degree. Just don't waste time doing stuff without purpose.
Whether you're jogging on the treadmill or training for a marathon, tech can help make your run more productive and enjoyable. Visit BestBuy.com to learn more about the latest running watches and wireless headphones.