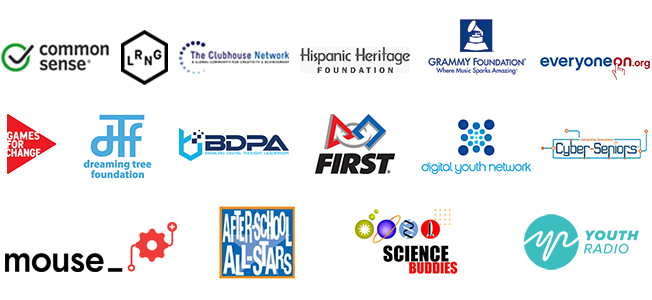 Best Buy provides funding to strategic national nonprofit partners that help us further our goal of providing teens opportunities to develop technology skills that will inspire future education and career choices.
After-School All-Stars – Established in 1991, After-School All-Stars provides free, after-school programs to low-income, inner-city youth across the country. Reaching 87,000 students at nearly 400 school sites with specific STEM program.
BDPA – Since 1986, the BDPA Student Information Technology Education & Scholarships (SITES) program has been a leader in the technology and STEM based training space for students.  Throughout the years, the SITES program has introduced and provided advanced technology training to tens of thousands of students across the country through workshops, webinars and other activities. In addition to technology training, our students gain valuable soft skills that include: presentation, leadership, critical thinking, planning and teamwork.
Common Sense Media – Established in 2003, Common Sense Media is dedicated to improving the media and technology lives of kids and families.
Cyber Seniors – Cyber-Seniors: Connecting Generations trains teens to teach technology to older adults to help bridge the generational technology gap and help expand both teens' and seniors' social networks.
DePaul University/Digital Youth Network – DePaul University's Digital Youth Network (DYN) develops the people, tools, practices and infrastructure necessary to power equitable learning ecosystems that prepare all youth with the digital and computational experiences and tools necessary to question, change, design and build their worlds. As stewards of Chicago City of Learning, DYN has built a strong social and technical infrastructure designed to be leveraged to create equitable pathways to opportunities for all of Chicago's youth.
Dreaming Tree Foundation – Dreaming Tree's Fresh Films program engages underserved diverse teenagers in working on a film set.  Mentored by pros and college students, teens rotate through all film positions gaining significant confidence, technical skills and life skills, including problem solving and collaboration. The resulting EMMY quality educational content (TV episodes, films, shorts) is released in theatres, on DVD, in schools, on TV and internationally with funds from distribution reinvested to support more youth programming.
EveryoneOn – EveryoneOn is a national nonprofit that aims to eliminate the digital divide by making high-speed, low-cost Internet, computers, and free digital literacy training accessible to all unconnected U.S. residents. EveryoneOn has connected almost 200,000 low-income households.  For more information about EveryoneOn, visit EveryoneOn.org.
FIRST – Founded in 1989 by inventor/entrepreneur Dean Kamen to inspire young people's interest and participation in science and technology.  Student participants, in K-12, master skills and concepts to aid in learning science and technology through innovative projects and robotics competitions, while gaining valuable employment and life skills.
Games for Change – Founded in 2004, Games for Change (G4C) is a nonprofit that supports the development of games for social impact and learning. G4C incubates game projects, engages the public through events and arcades, engages professionals and youth through design challenges, and provides platforms for the exchange of ideas and resources. G4C works with funders, content specialists, learning experts, and creative teams to create and distribute successful impact games.
GRAMMY Foundation – Established in 1989, GRAMMY Foundation's goals are to: 1) promote the importance of maintaining music education as a core element of school curricula; 2) bring students together with working professionals for a "real life" exchange of information, insight, and inspiration; and 3) recognize excellence in school music programs nationwide.
Hispanic Heritage Foundation – Established by the White House in 1987, the Hispanic Heritage Foundation (HHF) inspires, prepares and connects Latino leaders in the classroom, community and workforce to meet America's priorities in areas including technology. HHF offers a continuum of programs, including the Hispanic Heritage Youth Awards, Latinos On Fast Track (LOFT), Hispanic Heritage Awards and Public Awareness Campaigns.
LRNG – Working together with schools, city leaders, businesses, and community institutions such as Boys & Girls Clubs, libraries and museums, LRNG is building an online platform of learning experiences that combines in-school, out-of-school, employer-based, and online learning experiences into a seamless network that is open and inviting to all youth. When students complete activities, they earn digital badges to use as credentials on their resumes and/or college/career applications.
Mouse – Mouse is a national youth development nonprofit that believes in technology as a force for good. We empower all students to create with technology to solve real problems and make meaningful change in our world. Mouse opens opportunities for youth from underserved communities and helps all students realize their full potential — and the potential of technology — to make a positive impact in their schools and communities.
Museum of Science/The Clubhouse Network (TCN) – Established over 20 years ago, TCN is a global community of 100 Clubhouses and Best Buy Teen Tech Centers located in 20 countries. TCN provides ongoing professional development, opportunities for global collaboration, evaluation and assessment tools, supporting each site in providing a creative out-of-school learning environment where youth work with adult mentors to explore their own ideas, develop new skills, and build confidence in themselves through the use of technology.
Science Buddies – Established in 2001, Science Buddies uses hands-on investigations to teach technology and science literacy by providing free project ideas, mentoring, and tools to a diverse audience of 18 million K-12 students, teachers and parents per year.
Youth Radio – Established in 1992, Youth Radio is a Peabody Award-winning production company where diverse young people learn journalism, design, music, poetry, and code. Partnering with industry professionals, students reach audiences in the tens of millions through their broadcast, digital, and mobile projects, while sharing their perspectives on the most pressing issues of our day. Our free curriculum toolkits invite educators across the US to join in this process.