CES is where the tech world gathers every year to see the newest and coolest technology. It's also where environmental leadership in the industry is celebrated.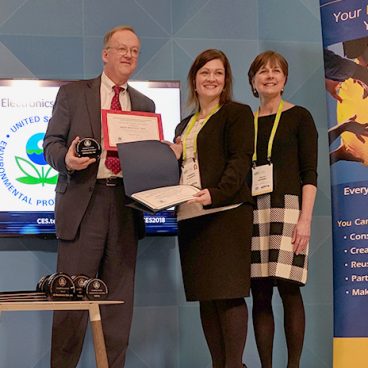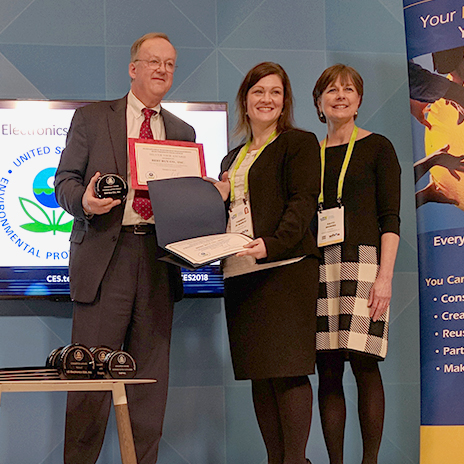 On Thursday, the U.S. Environmental Protection Agency (EPA) honored Best Buy with a Silver Tier Award in the Sustainable Materials Management Electronics Challenge. Winners were chosen based on their electronics recycling programs and use of third-party certified recyclers whose practices meet strict environmental standards. This is the fourth consecutive year we have been recognized for e-waste recycling by the EPA.
Best Buy also received an Honorable Mention for our collaboration with HP on the new ENVY Photo 6200, 7100 and 7800 printers. These first-in-class printers are made with recycled plastic from the closed-loop process – more than 10 percent by weight.1 Our customers share in this recognition too, because it's the used printers they recycle at Best Buy that are put directly back into the manufacturing of these new products.
Best Buy runs the nation's most comprehensive appliance and electronics recycling program, saving millions of pounds of electronics from landfills each year. We take back almost every electronic product, no matter where it was purchased, at all U.S. stores. In fiscal year 2017, we collected more than 174 million pounds of consumer electronics and appliances for recycling.
Click here for more information about Best Buy's corporate responsibility and sustainability efforts. For more Best Buy for Good stories, follow us on Twitter @BestBuyCSR.
1Compared to of majority in-class color desktop inkjet all-in-ones <$199 USD. HP internal research survey of printer manufacturers' published specifications, sustainability reports and press releases as of 8/1/2017 and Buyers Laboratory Inc. 2017 study commissioned by HP; keypointintelligence.com/products/samples/hp-envy/. Market share as reported by IDC CYQ1 2017 Hardcopy Peripherals Tracker. The HP ENVY 6200, 7100 and 7800 all-in-one printers contain more than 10% closed-loop plastic from recycled printers and other electronics plastic by weight of the plastic.