Our sustainability journey has pushed us to continually find new ways to innovate within our operations and beyond. That includes making Best Buy's exclusive brand products and the packaging they come in more sustainable.
We're launching an expansive line of protective cases for the new iPhone 14 lineup, and there's something special about the packaging they come in: it's being made with sustainably sourced paper that is certified by the Forest Stewardship Council® (FSC®). The phone cases are the largest lineup yet of Best Buy exclusive brand products to get the eco-friendly packaging.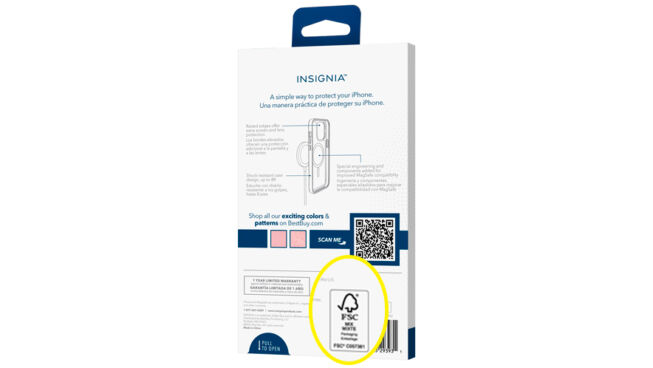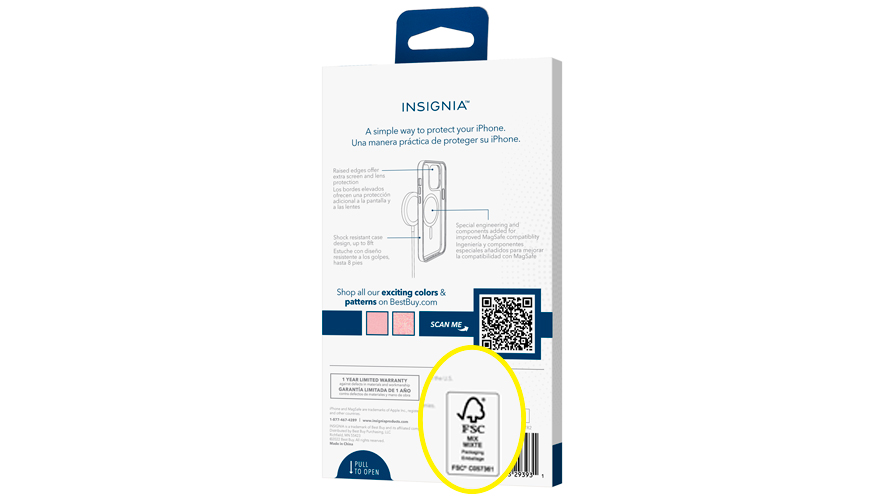 The FSC label means it comes from responsibly managed forests, which preserve biological diversity and provide environmental, social and economic benefits to help protect the planet.
"As we design the packaging for our exclusive brand products, we think about the customer experience in tandem with the design and materials we will use," said Erik Fair, Associate Director of Global Brand Execution and Packaging at Best Buy. "In doing so, we make sure that our design decisions align with Best Buy's goal to meaningfully reduce our impact on the environment and help our customers do the same. We built the program this way so when our teams wanted to create or design new products using FSC-certified packaging, they didn't face any barriers," Erik said. "This is one step in a many-steps journey towards a more sustainable future. It's creating momentum, and we can't wait to see where it takes us next."
Erik and his team — with members in the United States and Asia— laid the foundation for the sustainable packaging program using FSC-certified material in 2021. Their first milestone was getting the outer box packaging of our TVs within our Insignia brand made with FSC-certified paper. From there, the goal was to grow to other items.
Building a sustainable future with customers
We're committed to partnering with our customers to help protect the planet with purchases they make in-store and online.
We've set two ambitious environmental goals: committing to be carbon neutral across our business by 2040 and helping our customers reduce their carbon emissions by 20% by 2030.
We've made significant progress in our operations and in helping customers reduce their emissions. Since 2009, we have reduced our carbon emissions in our operations by 62%. Additionally, last year customers that bought ENERGY STAR products in the US will realize more than $796 million in utility savings and the products will provide 9.8 billion pounds of CO2 emissions avoidance.
To check out the new line of mobile accessories, go here. Click here to learn more about Best Buy's sustainability efforts.