After returning home in 1999 from an 8-month tour during the conflict in Kosovo, Army Spc. Steve Sonday planned to re-enlist for one of the military's most dangerous jobs.
As a lifelong fireworks enthusiast, he dreamed of becoming an Explosives Ordinance Disposal technician, a role in which he would disarm bombs like in the movie "Hurt Locker." He got his top-secret clearance and completed a stress test in the 75-pound bomb suit.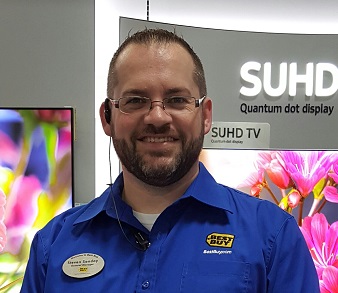 But Steve never signed his Army re-enlistment papers. Instead, he opted for civilian life and began what would become a very successful and fulfilling career at Best Buy.
Through the years, Steve has served as the general manager of four different Best Buy stores. He currently runs a location in the Prestonwood neighborhood of Dallas, where he uses the skills he learned in the military to lead a team of more than 80 people, including four fellow military veterans.
"When I get up there in the all-store meetings, it gives me that feeling of having an entire military unit looking up to me," he said. "I get excited and energized by that. That's what makes me feel good: to help them live their dreams and see their paths."
Best Buy caught his eye
Steve's journey to Best Buy began shortly after he returned from Bosnia. He and his then-girlfriend, Nicole, were talking about marriage and starting a family together, and he wasn't anxious to leave for two years of intensive explosives training in Germany.
Steve started to contemplate returning to civilian life. He happened to drive past a new Best Buy store under construction in Killeen, Texas, every day on his way to work at Fort Hood. The Minnesota native had fond memories of shopping at Best Buy as a teen, so he decided to apply for a job.
He started as a full-time Autotech lead installer. It was a good fit given his experience as an Army mechanic, although admittedly quite different from repairing Bradley Fighting Vehicles and Humvees.
"The rest is history," Steve said. "I've been with the company now since 2000, moving up through all the different ranks."
His career at Best Buy also has given him the opportunity to have the family that he and Nicole talked about years ago. They've been married for 14 years now, and he has a stepson, Darren (21), and a daughter, Kylie (10).
It's a far cry from a life in explosives, but Steve wouldn't change a thing.
"When the war broke out in Afghanistan in 2001, I would have been right there, deconstructing bombs and clearing paths for tanks and soldiers," he said. "I'm sure it would have been a thrill, but I count my lucky stars every day that I'm here."
Best Buy is committed to helping military members find careers with the company. Learn more at the Best Buy careers page.