James Quandahl's love of technology and passion for inspiring others helped him score a spot to watch and report on a NASA rocket launch this week. Seriously.
Quandahl, 27, is the Best Buy assistant manager at the Farmington Hills, Michigan, store and he's also one of 50 social media reporters whose application to cover a satellite launch at the Vandenberg Air Force Base in southern California was approved by NASA.  For two days this week, James will be live-tweeting his front-row seat experience of the event — follow him on @JamesQuandahl.
"I never really expected to be a part of a NASA launch or to be doing anything with NASA," he said. "I saw this opportunity and just jumped on it."
The Soil Moisture Active Passive (SMAP) satellite will use microwave technology to track and monitor Earth's soil moisture. Why is that important? Because it will help improve weather forecasts, monitor droughts, predict floods and assist in crop productivity.
The NASA event begins Wednesday, Jan. 28. Quandahl and others attending the event will be given a behind-the-scenes tour of the Vandenberg Air Force Base, check out the United Launch Alliance Delta II rocket with the SMAP Satellite on it, hear from the SMAP engineering team, meet with members of the NASA social team and watch the satellite launch from a special public viewing area.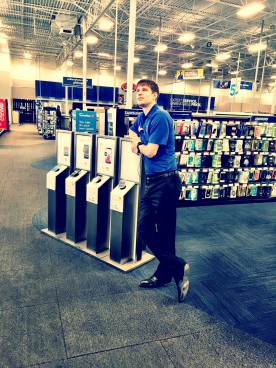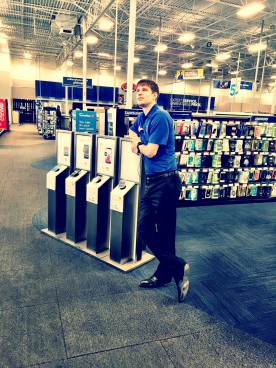 Quandahl always has been drawn to NASA's mission to explore the unknown through technology, and this opportunity will provide him an outlet to inspire others to think as creatively as he does. Where did that interest in exploring the unknown come from? Stargazing far away from city lights in Port Crescent State Park on Lake Huron, Mich.
"You can lie on the beach and actually see satellites going through the sky if you watch close enough," he said. "It looks almost like shooting stars, but it was more constant and slow… and just amazing."
It's no surprise that Quandahl has a passion for technology and inspiring others. Working as a Best Buy store manager allows him to incorporate these passions into his job.
"The great thing about being a manager is it helps me educate my team on that technology and get customers really excited about the future and the things that are coming," he said.
After finding out he was selected to attend the launch, he couldn't wait to have the opportunity to share this experience with others.
"How do I take this and share it out and try and get more people inspired like I am?" he said. "If you can just reach one person and inspire them differently, then it was all worth it."