Best Buy on Wednesday celebrated the grand opening of a new distribution center in Compton, California, just in time for the busy holiday season.
The facility will help the company meet growing demand for large products, such as big-screen TVs and major appliances, by shipping to Best Buy stores and customers' homes across the Los Angeles area. It has more than 90 employees and plans to ramp up to 125 over the holidays.
"Ten years ago this month, we opened up a store just a couple of miles from here," said Tim Buckenberger, Best Buy's vice president of supply chain. "Now, here we are today, expanding the Best Buy family in Compton, California, and deepening our relationship."
Compton Mayor Aja Brown, Compton Councilwoman Janna Zurita and U.S. Rep. Nanette Barragán (D-California) were among the other speakers at the event.
"Today, we're here to celebrate and really give thanks to Best Buy for coming into our community and creating local jobs here," Barragán said.
Brown said the new facility is proof the city is moving in a positive direction. "It is my sincerest hope that this distribution center will be not just a building that sends out merchandise, but a hub for transformation, growth and new possibilities for our great city," she said.
"I just want to say, 'Welcome to Compton,'" said Zurita, who also led the crowd in a cheer of "It's a great day in Compton."
Then Best Buy's leaders made the grand opening official by cutting the blue and yellow ribbons.
Meeting customer demand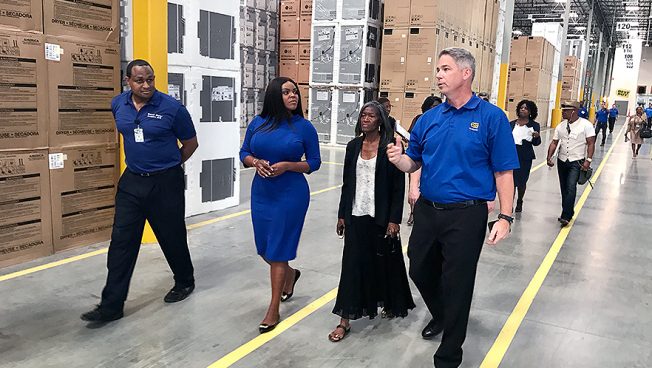 The Compton facility is Best Buy's first new distribution center location in 12 years, not including relocations. Together with an existing facility 43 miles to the east in Chino, it will help the company better serve customers in Southern California as business continues to grow.
The new facility is nearly a half-million square feet, lined with tall stacks of 4K TVs, refrigerators, washers and dryers.
"This Compton site really jumped out at us because there are so many people within a 30-mile radius," said Rob Bass, Best Buy's senior vice president of supply chain. "In order for us to get products to the customer quickly in this Los Angeles traffic and to serve Southern California, this was an ideal location. And there was a great employee base to pull from."
Starting next year, the facility also will serve as one of Best Buy's first Metro E-commerce Centers. In addition to its focus on large products, it will help meet growing online demand by shipping top-selling BestBuy.com products to customers in the Los Angeles area.
Giving back to the community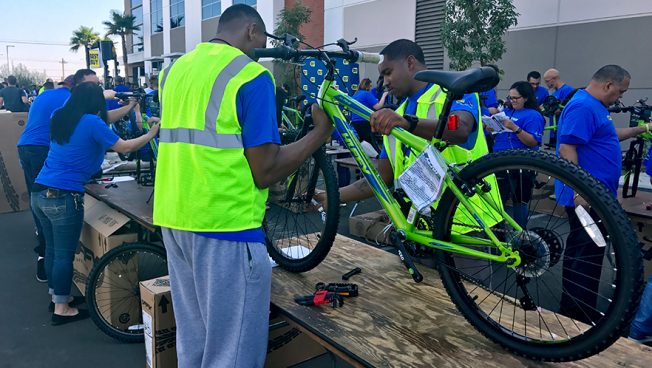 As part of the grand opening celebration, employees from the Compton distribution center and Best Buy stores across Southern California built 40 bikes for Peace 4 Kids, a nonprofit that serves youth in the foster care system. The bikes will ensure those kids have transportation and, more importantly, something to truly call their own.
Best Buy also presented donations to the following organizations:
$10,000 to the Sheriff's Youth Foundation of Los Angeles County to support the Compton Youth Activities League Media Program
$5,000 to the Boys & Girls Clubs of Metro Los Angeles to support the Watts/Willowbrook chapter's teen digital arts program
$5,000 to the Compton High School marching band, which performed at Wednesday's grand-opening event
$1,000 to Peace4Kids
"This is an exciting day for us," said Jordan Lewis, director of operations at the Compton distribution center. "We are very, very excited to be a part of the community of Compton."
Click here to learn more on Best Buy's Community Grants program and other community relations efforts.