LAS VEGAS — The greatest minds in technology have converged on Las Vegas this week for CES, the annual consumer electronics trade show. Media are flocking to see the shiniest new gadgets and innovators are showing off their latest creations.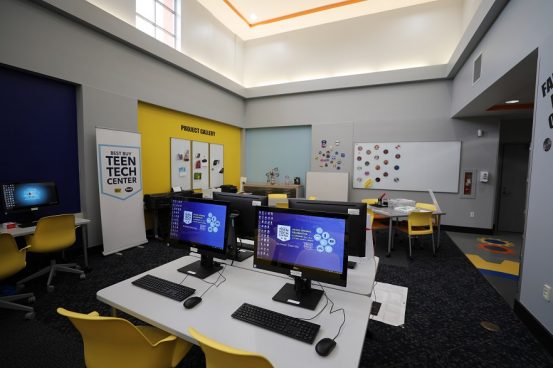 But the biggest dreamers were 6 miles off the Strip, away from the glitz and glamor.
Tucked inside the Las Vegas-Clark County Library is the newest Best Buy Teen Tech Center, which officially opened on Monday. It's the 14th location of its kind in the nation.
This won't just be a place for youth to hang out. It will be an incubator of dreams for students like Abilyn Plascancia, a teenage singer-songwriter who already has written songs but has never stepped foot inside a recording studio. That's changing because of the Teen Tech Center.
"This will help me learn about the technology and how it works," Abilyn said. "And maybe one day I can record my songs so I can actually get them out there."
She was belting out her songs at the center's opening, including one titled, I'm Uncontrollable. She wrote it in sixth grade after being bullied.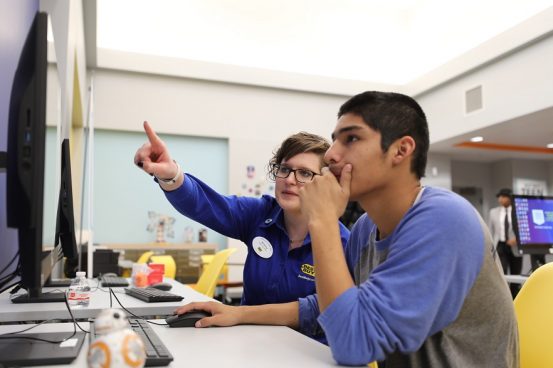 "The song is basically about, 'I am a person and you guys treat me so horribly and you think you guys can control me. But I don't think you guys can because I'm too powerful for you,'" she said.
Over the next decade, nearly 80 percent of jobs will require some type of technology skill. Preparing underserved teens for these tech-reliant jobs of the future is the main mission of Teen Tech Centers. Best Buy is committed to serving one million teens annually by 2020 through programs like this.
"We at Best Buy aspire to touch people's lives with the help of technology," said Best Buy Chairman and CEO Hubert Joly. "So, when we do this, particularly for teenagers who maybe don't have access to technology, we feel we can make a big difference."
That difference can be seen in Abilyn's smile. All night, she stood in the center's recording studio, living the future she once dreamed of.
For more Best Buy for Good stories, follow us on Twitter @BestBuyCSR.