Many people go to work to make money, but Best Buy gives our employees opportunities to do much more than that. One store leader's generosity within his hometown community is leaving a footprint — literally.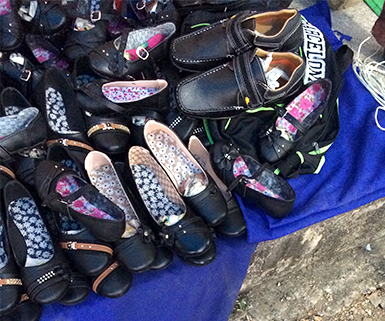 Jorge Veliz is the general manager of the Best Buy store in Mission Viejo, California. Growing up in Guatemala, he remembers walking to school barefoot. Today, as a GM, Jorge buys shoes for kids who need them like he did.
Every February, Jorge and his father organize a two-day festival in their home village. With games, live music and food, the event brings together more than 2,000 people.
Then, as the school year approaches, Jorge buys a pair of shoes for every child at the local school. He also buys school supplies to ensure they have what they need to learn.
"Best Buy has given me the desire to keep doing bigger and better things," he said.
More in store
Jorge started at Best Buy when he was in college and needed spending money. "At the time, it was just a job for me. I didn't know it would become my career," he said.
But along the way, Jorge found reasons to stay. He met people who encouraged him to pursue a career with the company. They showed him he had the skills needed to be a leader and helped pave the way for him to nurture his future, and his passions, all within Best Buy.
As doors opened in his career and his income increased, Jorge realized he could do more with what he had. In addition to giving back to his hometown, he is passionate about investing in his employees and giving them opportunities that were given to him.
"I am energized to come to work every day because I know it's more than for myself," Jorge said. "There is a greater cause I am contributing to."
Learn more about working at Best Buy by visiting our Careers website.