Josh and Jennifer Wesolek wanted to outdo all the drive-by birthday celebrations they'd seen during the COVID-19 crisis. After all, their son Matt wasn't just turning 18, he was graduating high school, too.
They thought he deserved something big. And that's why Josh reached out to his local Best Buy store in Saginaw, Michigan.
"I called you guys to add a little extra spark to it," Josh said.
And it worked. No one expected to see a Geek Squad van in the lineup of firetrucks and friends' sedans.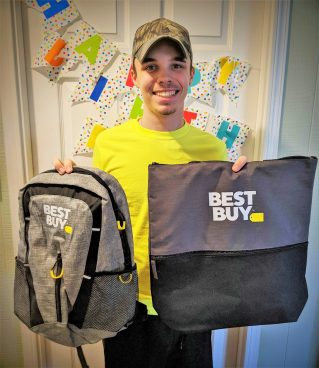 While Jennifer was the mastermind behind the parade, Josh was tasked with finding that one thing that would take the celebration to the next level. More importantly, he wanted it to be relevant for Matt, who's entering a new stage of life.
"Best Buy was the first thought I had when I think of schooling and supplies you need for that," Josh said. "That's where we always go for laptops and phones. It's our go-to."
And the employees who participated did not disappoint. They decorated handmade posters and put together a swag bag with Best Buy socks, a Bluetooth speaker and headphones.
"Just the fact that Best Buy was there was amazing to Matt," Josh said. "He's not one for too many words, but he was obviously excited."
That was important for the Wesoleks, who see a bright future for their son.
"He's got ideas. You can't tell him anything's impossible," Josh said. "His future is going to have a lot of possibility because he never stops thinking. He never stops moving. I'm pretty excited to see where he goes from here."
Matt doesn't know exactly what he wants to do next, but he'll probably go to trade school.
"He's leaning toward being an electrician," Josh said. "But he's one of those kids who kind of wants to do everything."
A different kind of community event
Brenda Studans, general manager at the Best Buy store in Saginaw, jumped at the chance to do something special for her community.
With more than 51,000 confirmed cases, Michigan ranks among the 10 states hit hardest by the COVID-19. Saginaw County, a manufacturing community about two hours northwest of Detroit, has seen the effects of the virus firsthand with nearly 1,000 cases.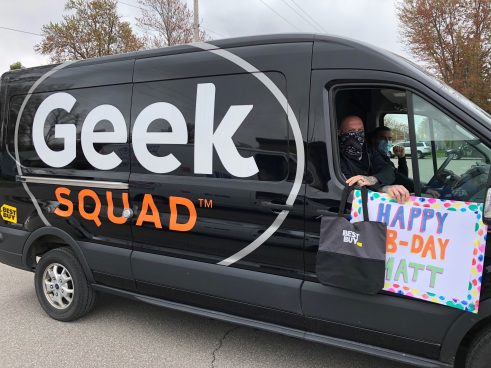 "It was nice to show that even in the toughest times, we are still here to support our community," Brenda said.
For In-Home Advisor Ryan Keller, it was a meaningful experience. He has participated in plenty of community events during his six years at Best Buy, but nothing quite like this.
"This was much more personal," he said.
And he believes that's because Best Buy is different than other retailers.
"The relationships we build with people creates opportunities for something like this," he said.
After this experience, Josh agrees.
"Before, when I thought of Best Buy, all I thought of is this giant corporation, not hometown real people," Josh said. "Now they are Saginaw people."