As groups of students entered a Phoenix Convention Center meeting hall on Monday afternoon, 260 Best Buy volunteers cheered and gave high-fives.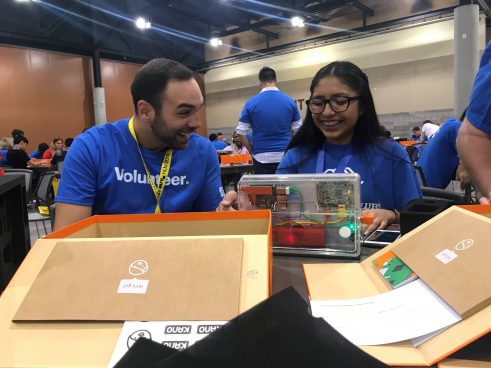 The Best Buy employees were on hand to help the students build their own Kano laptop computers. The volunteer event helped kick off the company's annual Holiday Leadership Meeting, where company leaders from across the U.S. come together to get ready for the holiday season.
Working with the kids "just makes you feel good, and it's fun for us because we're learning too," said Jennifer Dieckhoff, general manager of a store in the Charlotte, North Carolina, area.
In all, 330 students from four area Boys and Girls Clubs, the YMCA and local nonprofit ICAN participated.
Best Buy donated the Kano kits, which contained an HDMI cable, speaker, wireless keyboard, HD display, battery and, most important, an instruction book. Students can use the computers to learn coding skills, build apps, create animations and play games.
Best Buy is committed to helping prepare teens from underserved communities for tech-reliant jobs. By 2020, we're aiming to reach 1 million teens per year across North America. Click here to learn more.