One spring afternoon in the school library, Josie Davis and Sienna Russell hit a roadblock in the code they were writing.
The girls turned their heads expectantly to Suprabha Hegde, a junior software engineer at Best Buy. She pointed to their screens as she guided them through the next steps.
Suprabha is one of 50 Best Buy employees who have volunteered over the past four months with TechnovationMN, the Minnesota branch of a global program that teaches teen girls to dream up, design and code mobile phone applications that solve real-world problems that teams have identified in their communities.
It's hands-on interaction that Suprabha says she wishes she'd had when she was a teen. And it's one of the reasons she gives her time as a mentor for one of 10 Twin Cities middle school teams sponsored by Best Buy.
Over the course of the program, professionals like Suprabha helped guide the teams — made up of three to five girls — through the app development process. By May, they had not only completed the coding, but they also presented a business case and explained the user experience to a large audience at the program's culminating event, Appapalooza.
Along the way, Best Buy's Women's Employee Resource Group sponsored field trips to the company's corporate office. There, the girls worked on their apps with experienced coders and got feedback on their presentations from a panel of Best Buy women leaders.
When Best Buy CEO Corie Barry met with the Technovation teens at one of the on-campus events, she noted a natural connection between the program and Best Buy's broader commitment to prepare teens for tech-reliant jobs of the future.
"As a woman, I give you all a ton of credit for putting in the extra time and energy and putting yourselves out there and letting people judge you," Corie said. "As an employer, we don't have enough people to fill tech-related jobs and particularly don't have enough women to fill them.  And as a mom, all I want for all of you is what I want for my daughter: I want you to have every opportunity in the world."
Technovation: Community-focused coding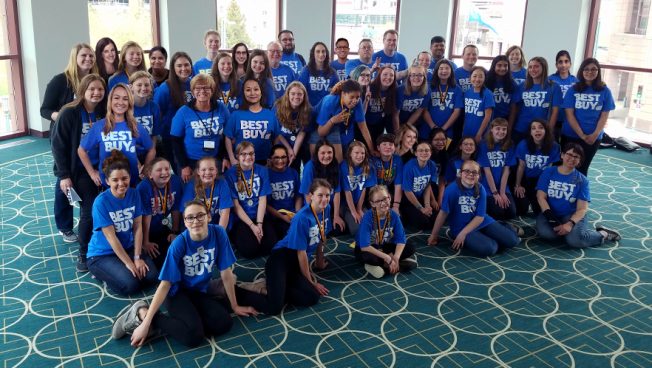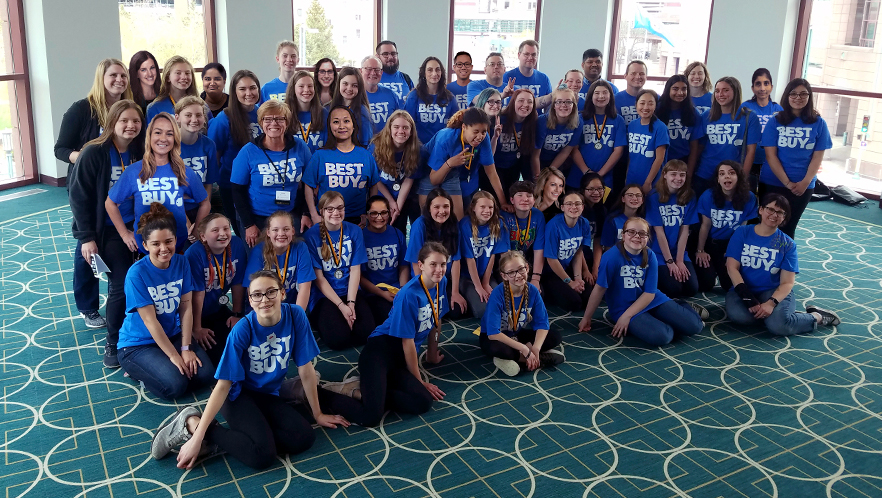 The need for tech literacy is real. After all, it's estimated that soon some 80% of jobs will rely on some sort of tech knowledge.
"When girls hit this middle school age, tech stops being cool," said Cidney Rattunde, who coordinates Best Buy's relationship with TechnovationMN and the local teams. "Bringing in a fun community and a challenge like this at that point in their development makes all the difference."
Josie and Sienna's team, which they nicknamed "Team Pride," was one of seven Best Buy sponsored at Olson Middle School in Bloomington, Minnesota (three others were sponsored at other Minnesota schools). The girls saw the need for an app that could connect LGBTQ+ students at different schools who might otherwise feel marginalized among their classmates.
"It's to help people having problems will all types of stuff: friends, family or learning about themselves," Sienna said. "It's to help them talk to other people and tell them what's going on and have them feel comforted by people who might get what they're going through."
Ashley Trisch, a teacher who coordinates Technovation's presence at Olson, cites that community focus as the main factor behind the programs' popularity.
"Sure, these girls want to code," she said. "But, really, they're passionate about helping their community, and they see this as the most obvious way to do that."
The value of volunteering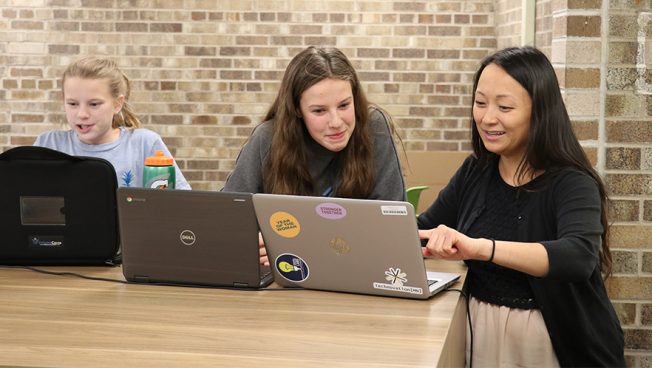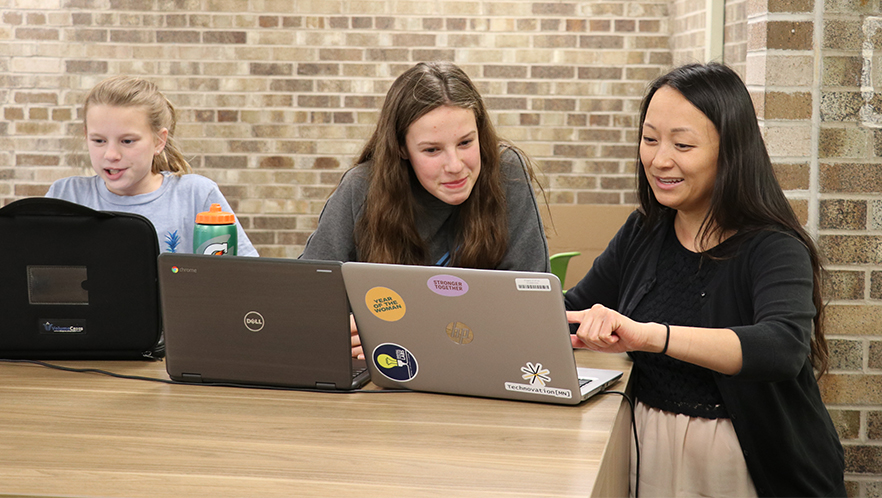 The Best Buy volunteers are similarly driven by a desire to help their communities, but they've also seen their role in the program affect their day-to-day work.
"This whole experience has lit a fire under me from a leadership perspective," said See Kong, a mentor who is an analyst on the Best Buy E-business team. "I've realized I have a lot to offer a team in terms of management and helping project-manage things."
Best Buy leaders recognize the value, too. When mentor Mark Scanlon told his manager he'd have to adjust his hours to participate in the program, his manager encouraged him to do so.
"It's nice that our leadership gives us the support to be able to do this," said Mark, who serves as a senior manager on Best Buy's web team. "If there's an opportunity to help, there is support for us to use our platform and expertise to make the world a better place."
Click here to learn more about how Best Buy is working to close the gender gap in STEM.
Check out our Social Impact site to see how else Best Buy works with teens and technology. Visit our careers site to learn more about working at Best Buy.