In the early weeks of the pandemic, consumers were stunned to find empty shelves in the toilet paper aisle.
In response, a growing number of Americans turned to the bidet, finally giving it the attention it deserves. While this handy bathroom accessory has been around for more than 300 years and are popular in other parts of the world, it never really caught on in the U.S.
While toilet paper is back on store shelves, bidets remain as relevant as ever because they're easy to use and better for the environment. Americans use approximately 34 million rolls of TP per day, and it takes about 37 gallons of water to make a single roll.
That's why bidets are part of our new sustainable living category on BestBuy.com.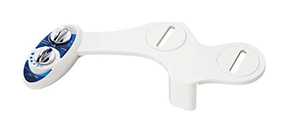 Luxe bidets also feature a self-cleaning nozzle, a control panel and a dual nozzle for different water pressure levels. They're quick and easy to install, and they don't need to be connected to warm water or electricity. Plus, they include an 18-month manufacturer's warranty.
We carry three types of bidets that attach right to your toilet, depending on the size of your toilet seat — round, elongated or universal. The universal attachments made by Luxe are compatible with most toilets.
We also we carry the Bio Bidet Prodigy toilet. This toilet has a sleek, rectangular shape and tankless design, and it includes an adjustable heated seat, a warm air dryer and touchless operation for easy flushing.
With options like these, it's easy to live green and flush the toilet paper once and for all.
Click here to learn more about the bidets available at BestBuy.com.