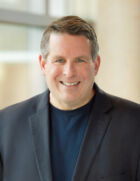 Brian Tilzer is the chief digital, analytics and technology officer for Best Buy Co. Inc. In this role, he is responsible for all aspects of information technology and digital at Best Buy to create a seamless and superior multichannel customer experience in support of the company's Best Buy 2020 growth strategy. He also leads Best Buy's enterprise data and analytics capability.
With more than 25 years of experience in strategic business development, operations and information technology, Brian has deep expertise in understanding, defining and delivering the technology necessary to provide a superior customer experience in a multichannel environment.
Prior to joining Best Buy in 2018, Brian served as chief digital officer at CVS Health, the largest pharmacy health care provider in the U.S. He also has served as senior vice president of e-commerce for Staples and senior vice president of strategy and business development for Linens 'n Things. Before that, he held leadership roles with Accenture, including helping Best Buy with several growth and performance-improvement programs.
Brian holds a bachelor's degree from Tufts University and an MBA from The Wharton School at the University of Pennsylvania. He serves on the board of directors for Signet Jewelers, the largest retail jewelry chain in the U.S., Canada and United Kingdom.