Click here for the full request for proposal document.
Community Grants partner overview
As a means to prepare teens for the tech-reliant jobs of the future, the Best Buy Foundation will provide funding to equitable, innovative, impact driven programs in eligible non-profit organizations committed to enhancing the lives of teens 13 – 18 years old through cutting edge technology enabled curricula. Programs should include hands-on learning opportunities that lead to skill development and engage the youth in experimenting and interacting with the latest technologies to close the digital skills gap.
Our goal is to provide teens from under resourced communities with access to innovative technologies and help them stay engaged and become increasingly fluent in technological fields while developing skills to help better prepare them for future education and career success. As a measure of long-term success, we are looking to partner with non-profit organizations enabling youth to obtain industry recognized competency or credentials.
For more information on Social Impact at Best Buy, visit:
https://corporate.bestbuy.com/social-impact/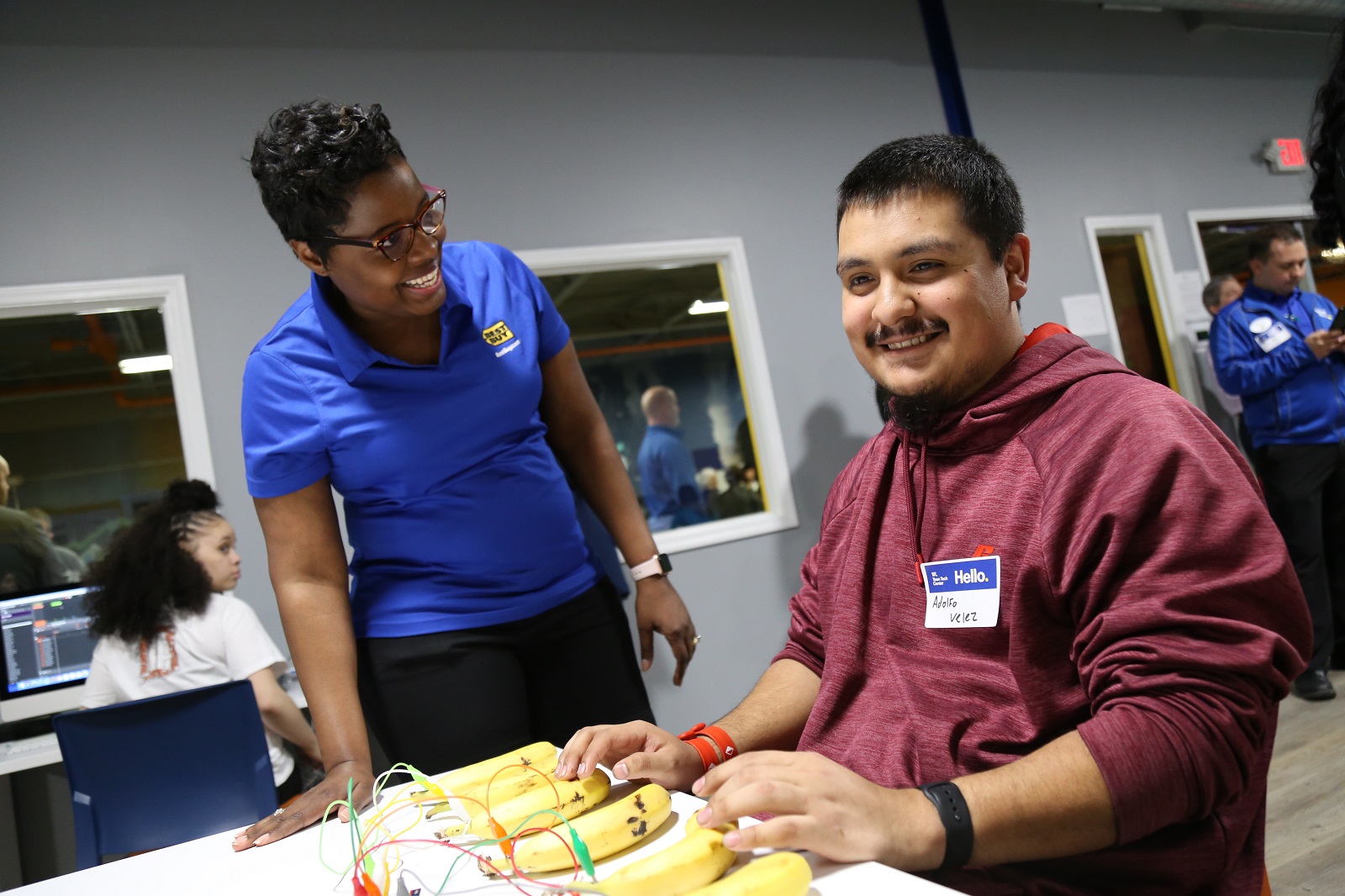 Grant overview
The Best Buy Foundation is seeking local organizations with a demonstrated track record for building skill proficiency in technology through out-of-school time programs.
Programs should help teens build tech skills by utilizing cutting-edge technology such as computers, digital cameras, video cameras and professional software in a wide range of areas including (but not limited to):
Audio production (including music mixing & recording)
Website development
Computer maintenance and repair
UX/UI (user experience/user interface)
Digital arts such as graphic design and photography
Cybersecurity
Mobile & game app development
3D Animation
Programing & coding
Virtual Reality/ Augmented Reality
Robotics
Green technology
The primary responsibilities of the nonprofit organization include:
Providing staff and curriculum for the out-of-school time programming. May include volunteer instructors. Must not rely on program development or staffing provided by Best Buy employees or associated companies.
Where the opportunity exists, working with schools and other community-based organizations to build awareness of the program to drive teen participation.
Demonstrating engagement of youth from underserved communities.
Developing financial and community support to help sustain the program beyond the grant funding from Best Buy Foundation. Best Buy Foundation will not fund a program as the only supporter, additional funders or support are required.
Submitting an impact report on program components such as participant demographics, program activities, desired outcomes, challenges, successes, and participant survey results.
When possible, enabling participation of Best Buy employees to serve as volunteers.
Community Grants are designed to support local efforts and are reviewed for consideration by Best Buy teams across the United States. Special consideration will be given to programs that exclusively serve girls in an effort to increase their tech skill fluency.  The grant amount will not exceed $15,000.
Eligibility criteria
Best Buy invites out-of-school time programs that have a fundamental commitment to under resourced youth, ages 13-18, to apply for funding.  Minimum eligibility criteria include:
Eligible nonprofits may be a public or nonprofit community-based organization (e.g., community center, school or library) with existing local out-of-school time program and a proven track record of serving youth ages 13-18.
Program located within a non-profit organization targeting teens in under resourced communities.
Program must operate within 25 miles of a Best Buy store or other Best Buy center of operations (e.g., warehouse, corporate headquarters, Geek Squad Service Center, etc.) to allow for Best Buy employee volunteer participation (if appropriate). To find store locations, visit www.bestbuy.com and click on "Store Locator".
Commitment to diversity and inclusion.
Organizations within the Twin Cities seven-county metro area are eligible and can apply for Best Buy Foundation support through the Community Grants Program or Twin Cities Fund, but not both.
Previous grantees must submit an impact report before applying for subsequent funding.
Eligibility quiz
To determine eligibility, please complete the quiz at: www.cybergrants.com/bestbuy/CommunityGrantsquiz
Required elements of the proposal:
Proposals will be evaluated and competitively ranked by a local review committee from Best Buy. The review committee may contact you with additional questions as part of the selection process. The overall comprehensiveness, quality and clarity of the proposal will be taken into consideration.
Make sure to address each requirement below in the section that corresponds to the online application.
The grant will support the operation of the program for one-year. Grant recipients will be eligible to apply the following year for funding, there are no guarantees of renewed funding.
Organization Information
Statement of nonprofit organization's mission and strategic direction.
Demographics, Youth Served, Hours of Operation
Include number of youth served and related demographic data

Number of youth served by the program
Ages served by the program
Gender mix in the program
Ethnicity percentage must total 100%
Participation by percentage in National School Lunch Program if known

Program title with anticipated start and end dates.
Hours of operation for your program, broken down by the following:

Hours per day
Days per week
Weeks per year

Per teen participant, provide the average hours spent engaged in the program.
Program Description, Objectives, & Impact
Describe how a grant would help teen participants stay engaged and become increasingly fluent in technological fields while developing skills to help better prepare them for future education and career success.
Describe the geographic area served by your organization/program. Include details on the challenges, issues or needs within the community that the program addresses.
Specifically, describe successful engagement with economically disadvantaged and diverse populations.
Incorporate artifacts – video or evidence of work produced by teens. (Optional)
Program implementation plan with timeline.
Desired program outcomes. Possible skills to be development can include but not limited to:

 3D Design
Coding/Programming
Creative writing/Journalism
Digital music/Audio production
Emerging Technology
Game Design
Mobile Apps
Multimedia production
Reputation, Program Staffing, and Volunteers
Describe your reputation in the community and give examples of a demonstrated history of success.
Include examples of any collaboration with organizations in the community
Provide the number of allocated staff or volunteers for the proposed program.
Does this program rely on volunteers? If yes, describe your volunteerism program.
Do you have opportunities for Best Buy to volunteer with the program? Outline any proposed or existing Best Buy employee volunteer activities.

If Best Buy employees are currently engaged, provide the frequency of their participation
Measurement
How do you determine skill proficiency or competency?
What outcomes do you measure success by? Clear demonstration of competency, certification, credential, education program placement, or internships.
Provide a brief explanation of your program evaluation process, does it include pre and post surveys of the participants for the following:
Increased knowledge of technology
Workforce readiness skills develop (e.g. teamwork, analytic skills)
Increased confidence in technology skills
Increased awareness of and interest in technology-related careers
Increase likelihood/attainment of high school graduation and college enrollment
Increase likelihood of post-secondary degree/ certification completion in tech related fields
Increase the opportunities for further education and career advancement
Increase the likelihood of a degree or credential with real value in the current labor market
Brief Narratives and Funding
Include total program budget, identifying how funds from Best Buy would be used.
List committed corporate or community funders, levels of support and any funding received from Best Buy previously.
Proposal deadline and administrative information
Grant Awards

 

Program grants (no general operating or product only requests) not to exceed $15,000
Grant Period
Up to one year of funding
Eligibility Quiz Launch
April 1, 2019
Eligibility Quiz Link
www.cybergrants.com/bestbuy/CommunityGrantsquiz
Application Site Opens
Wednesday, May 1, 2019 8:00A.M. EDT
Proposal Due Date
Proposal must be submitted no later than Friday, May 31, 2019 5:00P.M. EDT
Notification Date
Aug. 31, 2019
Additional Information
https://corporate.bestbuy.com/social-impact/
Application Support
Use the "Need Support" link on the webpage
Program Contact
SocialImpact@BestBuy.com