Almost three years of careful planning and outreach paid off this week as 160 students at an elementary school in Hawaii enjoyed their first interaction with a Geek Squad Academy (GSA).
Students got to program robots, write code and more with the help of Best Buy and Geek Squad volunteers.
"You could just feel the excitement and energy when the kids entered the room," said James Pineda, a Geek Squad Agent at Best Buy's Honolulu store who helped lead robotics classes. "They started the day with a sort of nervous, quiet energy, but you could see that energy explode by the end of the day. They're showing off their new skills, trying new things, feeling really confident in what they're doing. It's really inspiring."
It had been six years since a Geek Squad Academy was last held in Hawaii, largely because of logistical challenges. With dozens of the two-day tech camps in cities across the country each year, it's important to get supplies from site to site as quickly as possible. And that's not easy for an island located 2,500 miles — and one ocean — away from the closest GSA.
But excitement never faltered in the Aloha State for a GSA return. Finally, Sean Oliver, general manager of the Honolulu store, got word that a local academy might be possible in 2018. He jumped at the chance to make it happen.
"We've always believed that it was important to build these connections with our local education systems," Sean said. "Many of our local communities don't have that one-to-one student/computer relationship that is so important for getting ahead in their education these days."
GSA helps bridge that gap, but bringing it to the island would be a challenge.
Location, location, location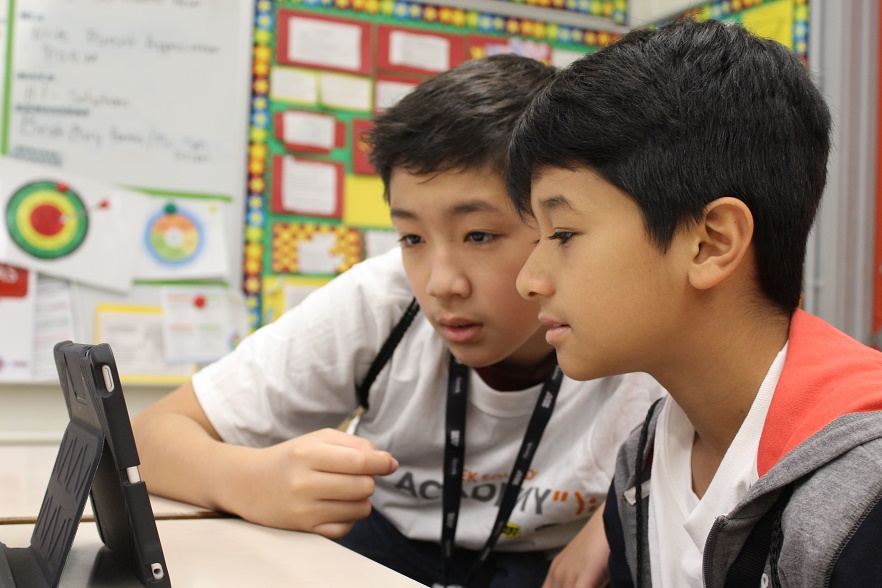 Hawaii's unique location created a logistical challenge for the GSA planning team. Two major factors would need to be addressed before a GSA could take place: when and where to hold it, and how all the necessary equipment would get there.
"We knew, because of the time it takes to ship items to Hawaii, that we couldn't host a GSA in Hawaii during our normal summer schedule and get the equipment to the next group in time," said Andrea Riehl, a community relations manager at Best Buy. "But the problem remained: Where were we going to find enough students available for two consecutive days during the school year?"
The answer came from a relationship Sean had developed with a local school in Pearl City, Hawaii. Pearl City Elementary, located northwest of Honolulu, serves a diverse mix of students from both military and local backgrounds – and was interested in hosting a two-day "in-school field trip" for its entire 4th and 5th grades.
With a school willing to host during the school year, the GSA planning team turned toward its next challenge: Getting the program's laptops, signage, robotics, 3D printers and administrative material to Pearl City was going to cost three times as much as much as shipping the same material to any location in the U.S. mainland.
"Once again, the local team's excitement stepped in to help," Andrea said. "They offered us space on one of their shipping containers, reducing our shipping costs by an immense amount and ensuring we could get everything there on time and on-budget."
Despite the planning hurdles, this week's GSA ran as smoothly as ever. In fact, that success has renewed Sean's excitement to pursue more community-focused events.
"We haven't even begun to scratch the surface of what we can do here," he said. "Building these types of programs here in Hawaii will allow us to be the full community partners we were meant to be. This is just the start of what can and need to do here."
Click to learn more about Geek Squad Academy or check to see if a camp is coming to your area. Go to Best Buy's Community Relations website to learn about our programs.