Editor's note: In March, Best Buy is proud to honor Women's History Month and celebrate our women employees. Read on for the story of one of our women leaders.
A year ago, assistant sales manager Valerie Holt was assisting a customer with a hearing disability and struggling to communicate with the customer.
Written notes and a few online searches for translations helped them navigate through the experience, but Valerie knew the customer deserved more. Following that interaction, she decided 'never again' and went home to learn American Sign Language (ASL).
"I just knew there had to be a better way," Valerie said.
Valerie and her oldest son set out to learn together, practicing conversations around the dinner table and quizzing each other on flashcards. Now, Valerie has become the go-to employee at the Tualatin, Oregon, store for any customers who prefer to communicate in ASL.
Throughout her 14-year Best Buy tenure, Valerie has picked up on other languages, such as German and French, to better serve the wide range of customers who come into the store. She loves to learn new things, but it goes deeper for her than that.
"It's about building rapport with customers and getting people to feel seen and comfortable," she said.
That's exactly what Valerie is known for among her colleagues. She takes pride in mentoring other store employees and helping them realize their full potential, whether it's at Best Buy or somewhere else.
"She's seen as a leader who can have fun while being the best but is also someone you can talk to about anything," said Roman Bondaruk, the store's general manager.
Discovering her own potential
For Valerie, believing in yourself can make all the difference. She is a first-generation college student currently working on her dissertation on the efficacy of women's leadership programming for her doctorate degree in business administration.
No one mentioned going to college to Valerie, and it certainly wasn't expected that she would pursue her Ph.D. However, she sees her education as something to give back to her grandparents and her mother for their resilience. Her grandparents immigrated to the U.S. from Mexico and worked in fruit fields, and her mother raised Valerie and her three siblings as a single parent.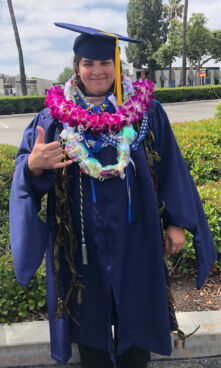 "I think having someone in the family with a doctorate degree is the best way I can honor their legacy and what they worked for," she said.
Valerie also values her education as a path to help her build a better future for herself and her children.
"I knew that if I wanted my own circumstances to be different, I would have to fight to break free of the expectations placed upon me," she said. "It's important that we continue to encourage women to push the envelope and trailblaze for the next generation."
With her degree, Valerie hopes to continue influencing positive change for leadership programs at Best Buy. Whether it's helping to develop training models or create resources for leaders to coach their teams, she wants to help other women in the retail industry chase after — and reach — their career goals without hesitation.
Making her mark on others
Through her own position in the store and as a mother of four boys, Valerie does everything she can to encourage her employees and family to go after their dreams. Each role influences the other, which she says makes her a better leader and mother. She thinks about the type of leader she'd want her sons to work with one day and has a keen awareness that her example matters.
"It's important to take a hard look and ask yourself, 'What are you doing to make them want to be better,'" Valerie said.
Roman says Valerie's work ethic and leadership approach has earned her the highest level of respect among the store employees.
"Valerie is one of the hardest workers I've ever had a pleasure of working with," Roman said. "She has an amazing sense of humor and phenomenal people skills."
Whether it's connecting with customers, being a role model for her Best Buy colleagues or managing daily life with her four teenage sons, Valerie hopes she's leaving a mark that inspires and brings joy to others. "I love building strong relationships and helping others grow," she said. "At the end of the day, I'm here to help make a positive impact on somebody's life."