Just in time for spring cleaning, Dyson has unveiled a new vacuum and air purifier to help you keep your home spick and span.
Dyson held an event in New York earlier this week to show them off, and we were there. Here's what you need to know.
The Cyclone V10 vacuum is powerful — seriously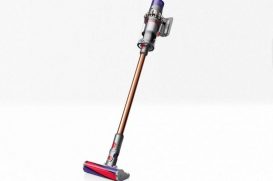 Sir James Dyson himself unveiled the latest from Dyson's home floor care lineup: The Cyclone V10, which contains the company's fastest, most-advanced digital motor yet. Its powerful suction power helps deep clean almost any mess, from large debris to coffee grounds, on a variety of surfaces.
This new cord-free vacuum is so strong, in fact, that James Dyson said he has stopped developing conventional upright vacuums with cords. Dyson will still sell its upright corded vacuums, of course, but won't be investing any more research and development resources into vacuums that aren't cord-free.
The Dyson Cyclone V10 vacuum can be used for floor-to-ceiling cleaning and can run for up to 60 minutes at a time on one charge. It's available for preorder now on BestBuy.com, with models starting at $499.
Pure Cool purifying fan handles air pollutants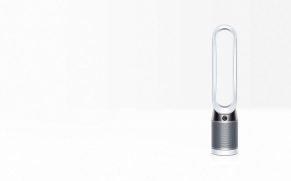 Dyson's new Pure Cool purifying fan sniffs out and removes indoor and outdoor pollutants, such as pollen or cooking fumes (most of which we can't see), helping clean the air in your home.
During a demo at the launch event, Dyson engineers used a small glass box to simulate what a "pollen explosion" would look like. The purifier detected the dust and automatically started to clean the particles out of the box.
The Pure Cool purifying fan will be available at Best Buy later this spring.
To learn more about Dyson products, visit BestBuy.com or stop by a Best Buy store to chat with an expert.