The biggest game in football is nearly here! We were able to spend some time with Kyle Rudolph, Minnesota tight end and league Man of the Year nominee inside the Best Buy Tech Zone in Atlanta.
While hanging with Kyle, we learned a bit more about his off-the-field hustle and how technology has a positive impact on nearly all aspects of his life. From practice to game day to being a dad and husband, here's what Kyle had to say.
BBY:  First off, we're dying to know… What's in your bag? What tech do you bring with you while on the road?
Kyle: I don't go anywhere without my AirPods and my iPhone full of my favorite music. Everything else in my bag is pretty standard: sunglasses, wallet, keys and, if my two girls are with me, their tablets to help keep them entertained.
BBY: Tell us more about how technology impacts the various areas of your life? What do you use for practice, during games and at home with your family?
Kyle: We go through a lot of game footage on the big-screen TVs in our facility to help us review our plays and prepare for upcoming matchups. During the games, our sideline coaches review plays and stats with us and can pull live data for us on tablets. It's awesome to have that information on-hand to help make decisions in real-time. I try to keep work at work and won't leave our facility until we're done reviewing. Then I can go home and be fully invested in spending time with my wife, Jordan, and our twin girls and newborn son. When I'm not hanging out with family, I love to spend time in our home theater watching college football.
BBY: Speaking of your family, when you're home together and entertaining company, what are some of your favorite tech devices that you and your wife use?
Kyle: Our kids usually dominate our living room TV and like to stream movies and cartoons. They also love to watch cartoons on their tablets. Jordan loves to use tech in the kitchen when she's cooking and entertaining. She makes the best food in our pressure cooker and just got into using one of those sous vide devices. Jordan also decked out the kids' rooms in all sorts of awesome tech. Everything from baby monitors to noise machines, she's got it all in there.
BBY: What do you like to do when you're not on the field?
Kyle: When not on the field we spend a lot of time at home as a family. Two twin toddlers and a newborn keep us busy! We love to relax and watch movies together. It's so nice to stream all sorts of movies right from our smart TV and have it all at our fingertips.
BBY: You're being recognized for your philanthropic efforts as a nominee for a big award to be announced soon. What inspired you to become so active in your local community?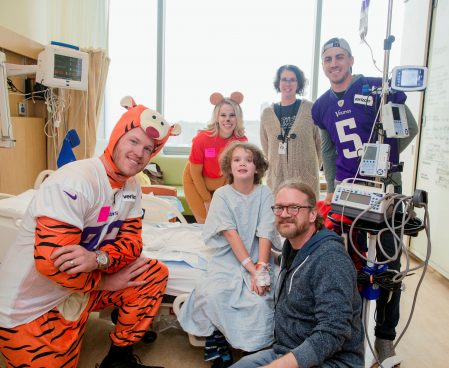 Kyle: My brother is 27 years old now, and he's been cancer-free since he was 14 months old. It was his successful battle with cancer that drew me to focus on the children's hospital. My family spent long days in hospital rooms with my brother while trying to keep me entertained and out of trouble. Kyle Rudolph's End Zone has been my family's dream for a long time.
BBY: Tell us more about Kyle Rudolph's End Zone?
Kyle: We wanted to create a space that allows kids to just have fun and take their minds off what they're going through. The 2,500 square-foot space at University of Masonic Children's Hospital gives patients and siblings a place to relax, spend time with friends and engage in healing therapies. It has a basketball hoop, sports simulator, video game consoles, lounge areas, kitchen and a sensory area for patients with autism spectrum disorder or other behavioral health issues. When I started seeing kids in the End Zone with smiles on their faces, having a good time, I realized how special this space is. It is awesome to see them in there just being kids.