For Geek Squad Agent Marcos Puchols, Hurricane Maria started a whirlwind adventure that would lead him from Puerto Rico to Denver and back again.
In the early days after the storm, many Puerto Ricans found themselves without food, water or electricity. And, with Best Buy's stores on the island damaged, Marcos wasn't sure what his future held.
But that uncertainty quickly gave way to a once-in-a-lifetime opportunity. With help from Best Buy, Marcos temporarily relocated to Denver, where he and his wife, Kathy, were able to work and maintain some sense of normalcy.
Marcos joined the local Geek Squad team, helping with home theater installations during the busy holiday season. Kathy, a pharmacy student, did her next rotation at a Denver hospital, helping her stay on track to graduate in June.
"I got to be with her while doing what I love to do. And she got to do what she loves to do," Marcos said. "It was just the best experience in the world."
'It was just awesome'
Immediately following Hurricane Maria, Marcos' primary concern was to find family members and make sure they were safe. It took five days to finally reach his mother in San Juan.
From there, he shifted his attention to his Best Buy co-workers — his "work family" as he refers to them. He met up with some who lived nearby, and they drove to the Best Buy store in San Juan's Hato Rey neighborhood where others were gathering.
At the store, company leaders provided food, water, diapers and other necessities to help employees affected by the storm.
"I have always said that this is the best company to work for, and if anyone had questions about it, I would say, 'Look back and see what they did for us,'" Marcos said.
Still, he worried about what would happen next. Best Buy's stores on the island had sustained significant damage, and it wasn't clear when they would reopen.
Best Buy continued to pay employees who volunteered with the recovery efforts and offered to help transport employees to the U.S. mainland. Marcos and Kathy didn't have family there, but Kathy had always wanted to do an internship in the states. She called her pharmacy school to see if there were any opportunities, and there was one — at a hospital in Denver.
"I was like, 'OK, I've never been to Denver. Let's go!'" Marcos recalled.
One week later, everything was set up. He arrived in Denver on Nov. 2 and started working the next day.
"They asked me if I wanted to take a few days off, but I wanted to work," he said. "I hadn't worked for more than a month, and I really missed helping our clients."
Marcos stayed in Denver until Jan. 17 and was a welcome addition to the Geek Squad team there.
"Getting the chance to have him be a part of our team, even for that short period, was a fantastic journey," said Jonathon Hawkins, Marcos' manager in Denver. "The Agents here loved him and were really appreciative of his work."
It proved to be a great opportunity.
"If the hurricane hadn't come, I would have never been to Denver," Marcos said. "I wouldn't have had that experience. I wouldn't have met all the awesome Agents there. It was just awesome."
Plus, he got to see snow for the first time.
Agent earned his parting gift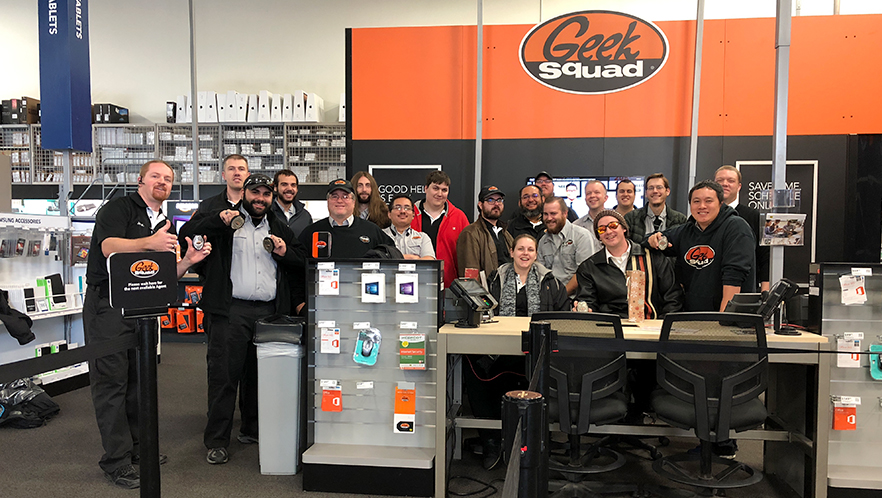 The highlight of Marcos' stay in Denver came on Dec. 14. Marcos and the rest of the local Geek Squad team gathered to go over their plans for the holiday season, but the meeting turned into a surprise celebration for Marcos.
About 90 minutes into the meeting, Jonathon started to play a video. And it wasn't just any video — it was the intro to the ceremony where a Geek Squad Agent receives his or her badge.
That's a big deal in Geek Squad culture. Agents must wait 18 months to earn a badge, which they then wear with pride on their left hip every day.
"I was thinking, 'This can't be for me. I wish it was, but it can't be,'" Marcos said.
But, sure enough, it was.
Marcos already had earned his Precinct Agent badge while working at the Best Buy store in Bayamon, Puerto Rico, for three years. But now, 18 months after becoming a Field Agent, he was finally due to receive his new badge.
He qualified for his new badge last July, but it hadn't arrived in Puerto Rico before the hurricane. So the team in Denver arranged to have it shipped there instead.
"When I pulled out the badge and gave the badge number to the team, Marcos' eyes just lit up," Jonathon said of the badge ceremony. "He was so excited. It was a great moment."
And one Marcos won't soon forget.
"It was the best parting gift ever," he said.