The anticipation had been building inside Geek Squad Agent Cayle Conkey over the last 18 months and, finally, on Thursday, the wait was over. He got his badge.
The number on it: 100,000.
It's a milestone number, signifying the past, present and future employees who have helped to build the tech support service into what it is today. It has taken more than 20 years (Geek Squad was founded in 1994) to reach 100,000.
"It's awesome. I've really been working toward this," Agent Conkey said after he was presented with his shield during a ceremony Thursday on the aircraft carrier USS Yorktown in Charleston, South Carolina. More than 40 people, many of them Agents, attended.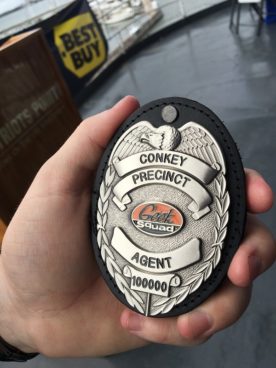 Getting a badge is a Geek Squad rite of passage, and it takes 18 months of employment to be eligible. The shield is a symbol of trust, strength and pride. It's worn on the left hip and should never be lost or forgotten.
Agent Conkey started at Best Buy almost four years ago selling computers in the Summerville, South Carolina, store. He joined Geek Squad in January 2015 and still works at that location.
Geek Squad Chief Inspector Nate Bauer made the trip down from Best Buy's headquarters in Minnesota to present the badge. The chief inspector is charged with upholding Geek Squad's unique culture.
"There are many who, though they aspire to it, will never achieve it," he said of the badge. "When you talk about what it means to be a Geek Squad Agent, you talk about passion, integrity and the willingness and desire to please people. This young man represents that."
Calvin Smith, general manager at the Summerville store, agrees.
"He is energetic, funny and pays a lot of attention to detail," Calvin said. "Customers love him."
Agent Conkey said he enjoys working in the store's precinct, on the front lines of helping people with their tech problems. "If I can make them smile or make their day better, I take pride in that," he said.
And now he can take pride in being a full-fledged, badge-carrying Geek Squad Agent.
"Welcome to our ranks," Inspector Bauer told him. "Wear that shield with pride."