Best Buy will soon offer a convenient way for eligible customers to get prescription continuous glucose monitoring systems (CGMs) delivered right to their home.
Facilitated by Wheel, a leading virtual care platform focused on delivering consumer-centric care and HealthDyne, a pharmacy technology provider, Best Buy will sell the Dexcom G7 Continuous Glucose Monitoring System to eligible customers through BestBuy.com, where they will be brought to our new platform, Wellness.BestBuyHealth.com to complete the process. Leveraging the Salesforce platform, Best Buy is selling glucose monitors via a site powered by Commerce Cloud.
With more CGM system options aimed to come soon after launch, this is the first time we will offer prescription based medical devices to our customers.
Why continuous glucose monitoring systems?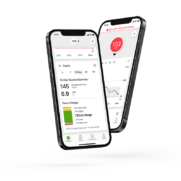 The CDC reports that more than 10% of the U.S. population has diabetes. With the demand for CGM growing over the past few years, using devices like Dexcom G7 means no fingersticks, real-time glucose monitoring and the ability to make smarter decisions about controlling diabetes.
Through our health and wellness categories at Best Buy, we make it easy to purchase any of our thousands of carefully curated technology products that help you stay healthy throughout every stage of your life. And with the new CGM offering, we're making the process of purchasing a CGM easier, too.
The expansion also aligns perfectly with the goal of Best Buy Health to enable care at home for everyone by relying on partners to provide care for patients while sticking to what we do best, providing technology and expertise that enriches and saves lives.
How to buy a CGM at Best Buy
Once available, customers looking for Dexcom G7 can find it on BestBuy.com, where they will be brought to our new platform by clicking "Get Started," or can visit Wellness.BestBuyHealth.com to begin the process with Wheel and determine eligibility. If approved, the prescription will then be processed by HealthDyne and the device will be sent to your home.
Although not available at launch, our goal is to soon allow those with an existing CGM prescription from their own physician to be able to upload that prescription into their profile and have the device sent to them.
We will not be able to accept insurance payment for CGM systems at launch, customers with HSA/FSA/HRA funds may be able to be reimbursed for their purchase.
About Best Buy Co., Inc.
Best Buy (NYSE: BBY) is the world's largest specialty consumer electronics retailer. Our purpose is to enrich lives through technology, which we do by providing our customers a unique mix of advice, products and services in our stores, online, and in homes. Our expert associates advise customers on our curated assortment of the latest, name-brand technology, while our highly trained services teams help with designs, consultations, delivery, installation, tech support and repair. Best Buy operates nearly 1,000 retail stores in North America and has more than 90,000 employees. We are a leader in environmental, social and governance issues, including through the Best Buy Foundation's nationwide Best Buy Teen Tech Center® network and the significant role we play in the circular economy through repair, trade-in and recycling programs. Our Best Buy Health business enables care at home for everyone by focusing on three key areas: wellness at home, aging at home and care at home. Building its strategy on the strengths of Best Buy, Best Buy Health utilizes its Lively® brand to offer a suite of devices, health and safety services and Caring Centers to help adults age independently. Best Buy Health also connects patients and providers through its Current Health platform to improve the care at home experience and ensure better outcomes. For more information on Best Buy Health, visit BestBuy.com.
Learn more at wellness.bestbuyhealth.com.
­­­