As has been the case throughout the pandemic, and especially true this holiday season, nothing is more important to us than the safety of our customers and employees.
As an essential retailer, we are continually reviewing reputable, third-party data, CDC and local health department recommendations and direct feedback from our local store teams to guide decisions about the safest way to provide customers with the technology products they need to work, learn and eat at home. Rest assured, this rigorous approach will continue as long as COVID-19 is a reality in our lives.
To help contain the spread of COVID-19 and make sure everyone can safely shop in our stores this holiday season, we have introduced enhanced safety measures and provided our customers with more options for how to get their tech.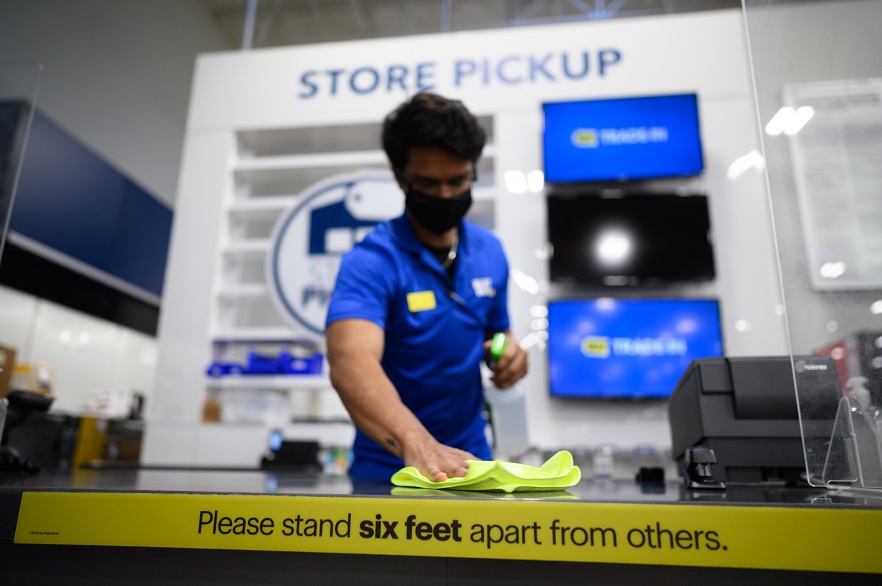 Enhanced safety measures in our stores:
Stores will continue to follow all health and safety guidelines and limit the number of customers inside at a given time to comply with CDC-recommended social distancing guidelines.
In almost all stores, while customers are still welcome to come in and shop freely, we have transitioned all store pickup orders to curbside pickup orders. This will help reduce the number of people in our stores who simply need to pick up their orders and will allow more customers inside who want to shop or talk to an expert.
Additionally, curbside pickup is now available before and after store hours to give customers more opportunities to safely get their orders.
We continuously survey and seek feedback from store leaders and employees to ensure we're providing a safe experience for employees and customers.
Stickers have been placed on the floor of stores as well as outside to indicate social distancing guidelines. If customers are required to wait to shop or to get help from an employee, they will be placed in a digital queue that allows them to wait, while appropriately socially distanced, in the store, in their car or outside the store.
Customers and employees are required to wear face coverings. We will supply a face covering if customers don't have one.
All employees follow multiple safety guidelines, including daily wellness checks, personal protective equipment and cleaning of high-touch areas. In addition, we have new safety measures for our interactive displays, including sanitizer wipes and display signs for customers.
In addition to routine cleaning by store employees, sanitizing wipes are available near high-touch displays so customers have the option to wipe down surfaces before engaging with them.
Each store will have a dedicated customer experience host at the front of the store to help direct customers, answers questions and safely manage any lines.
If appropriate and necessary, we will voluntarily limit store hours, reduce occupancy, shift to curbside-only pick up service or make other adjustments on a case-by-case basis to help local communities contain outbreaks. Data to guide these decisions is reviewed and discussed daily.
In order to limit the number of people in stores and avoid lines outside our stores, we are only selling this year's new, highly anticipated gaming consoles on BestBuy.com. We also invited customers to schedule appointments to pick up their pre-ordered devices in stores, including before store hours, to avoid lines or large groups in our stores.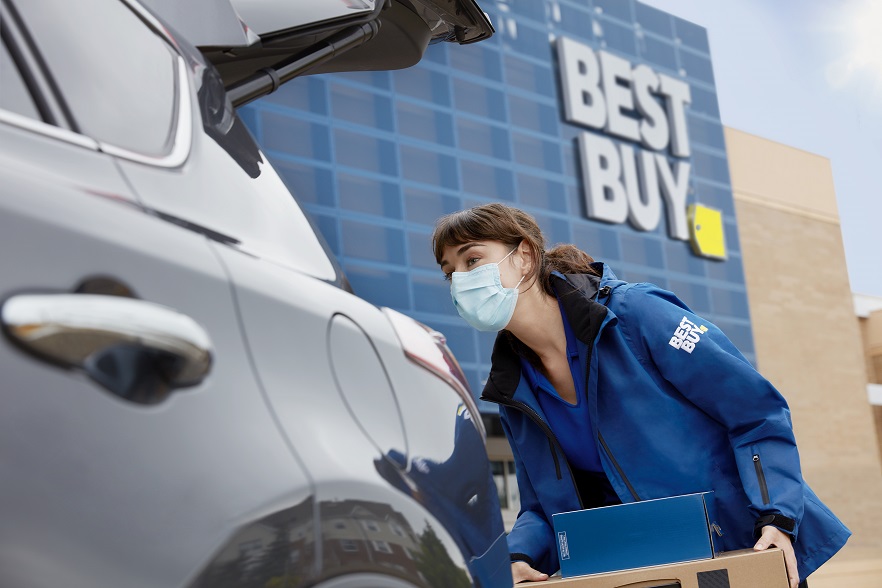 Safe options for customers to get their tech:
Contactless curbside pickup is available, and is a safe, convenient, and easy way to for customers to get their tech this holiday — all ready within an hour. Customers place their order online and select the "Curbside Pickup" option at their nearest store. They only have to park in the designated "Curbside Pickup" area, let us know via the Best Buy app or mobile site that they've arrived, and our team will deliver their order directly to their vehicle while maintaining proper social distancing and safety protocols.
Store pickup is another fast, secure and convenient option for those who shop online and want to pick up at a nearby Best Buy store. Orders placed with store pickup are also ready within an hour.
We've expanded our same-day delivery options, and now almost all Best Buy stores offer same-day delivery on thousands of products, delivered by 9 p.m. local time for shoppers who order by 1 p.m. local time.
Customers across the country can also get free next-day delivery on thousands of items.
Shoppers can pick up their order at more than 16,000 alternate locations, including UPS and CVS locations. More than 80% of the U.S. population lives within five miles of at least one of these locations.
Throughout the entire holiday season, we also have thousands of sales employees available to help with online shopping needs through our voice or chat options.
For more information, click here to see Best Buy's best practices guide for safe shopping.