My woes with home Wi-Fi started with monthly text messages from my wireless carrier days before the month was up: "FYI, you've used 90 percent of your shared data…"
Our inadequate Wi-Fi was responsible for mounting consternation, including but not limited to:
Whining from my gamer child: "MOOOOOM. This isn't working! It's BROKEN!"
Frustration from my husband, "Why can't I do anything on my tablet?"
And the dreaded spinning "buffering" circle that displayed while streaming my fave home remodeling show.
We'd been eking by with a spotty wireless network, and we'd been doing it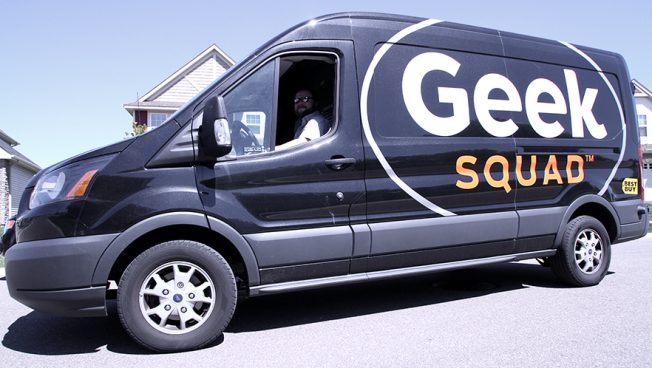 for too long. Nearly everything we tried to do online at home had hiccups.
Mea culpa. As a Best Buy employee, I was aware of the latest technology on the market and that Geek Squad had the expertise to help me with it. I just didn't take the time to tackle it … until I didn't have the choice.
I remember the moment well. I went to print something important, and my phone couldn't find the wireless printer. Grrrrrrr.
A little novice-level troubleshooting uncovered that it was because my phone wasn't on our home's network. It was connected to THE HOUSE NEXT DOOR.
Here I was, 10 feet from our own router, and my phone was getting a better connection from the neighbor.
So, I drove to Best Buy, where I showed all my proverbial cards to employees who knew how to deal with them. I didn't know what kind of router I had, or how long I'd had it, but I knew it was old. I knew we couldn't ever get a signal in our master bedroom. I knew that nothing worked smoothly and that our house was technological chaos. I even knew that we had a handful of connected devices competing for a place on our network.
Except I was wrong. As it turns out, it was more like 21 devices. We're talking about:
2 smartphones
4 tablets
1 desktop computer
2 laptops
1 wireless printer
2 smart TVs
1 streaming device
2 gaming consoles
1 thermostat
1 smart door lock
3 smart lighting modules
1 Wi-Fi booster
Thankfully, Best Buy helps with these kinds of issues every day. Charlie Edwards, a smart home designer at our store in Richfield, Minnesota, asked all the right questions, including the square footage of our home. He explained the newer router technology, which provides fast connectivity for all devices. Older technology slows down connections as more gadgets are added.
An Agent visits, and makes the Wi-Fi work
I bought the Netgear Orbi, which provides a "mesh" network, and cradled the box like a newborn baby. Charlie then set me up with Geek Squad's Home Wi-Fi Setup and Support. A Geek Squad Agent would come to our home and make it all work.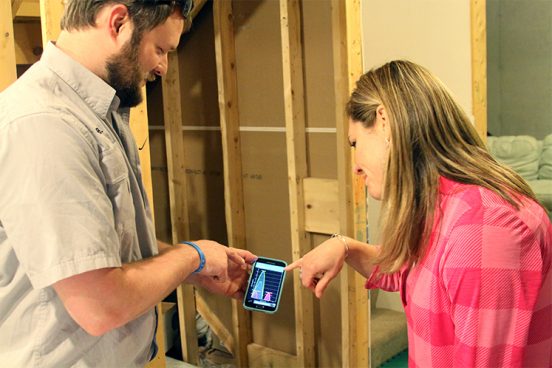 When Agent Matt Brown arrived at my house, he was a familiar face. Last year I went on a Geek Squad ride-along with him and got to see him tackle technical issues for a client, and today I was the client!
Agent Brown put on his floor-protecting Geek Squad booties and confirmed what we needed help with. He started by disconnecting all our old equipment. Then, he connected our new modem and router, which required calling my Internet Service Provider to activate the modem. Agent Brown also ran firmware updates to ensure both the router and satellite (which helps boost the signal) were up to speed.
With everything online, we walked around the house together to test the signal strength, which, even in that pesky master bedroom location, was rock solid. Score!
Agent Brown even completed a handy "Leave Behind" form for us to keep, which included the specs on our system setup and our network login information. Pro tip: When you set up new network equipment, keep your network name and password the same – everything magically gets reconnected.
In talking about the nature of this service, Agent Brown said he helps clients with bogged-down home networks on a regular basis. People have more connected devices than they may realize, but fixing it can also be easier than they realize.
"Setting up newer, stronger networks takes a little time, but it's worth it to have a secure network you and your family can rely on. The fact that your neighbor's Wi-Fi worked better in your house than your own shows that you definitely needed this," he said.
Learn more about home Wi-Fi and networking on BestBuy.com or stop by a local store and talk to one of our experts.