I bought my husband a Nest learning thermostat for his birthday, and I promised that I was going to install it myself. However, that was a year ago.
With the extreme Minnesota weather, every time I thought about taking it out of the box, it was deemed either too hot or too cold to turn off our heating and cooling system, you know, "just in case" I messed something up.
Well, no more excuses. I decided to get it done.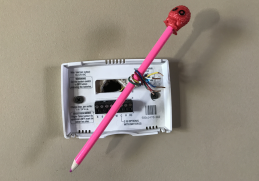 I was a little overwhelmed at the thought of installing smart technology in my house, but after watching this video, I knew I could do it. Here are a few tips:
Before you start, check that the wires to your current thermostat are compatible with the Nest.
Use the stickers that are included for the wires — it will help keep you organized.
After you disconnect the wires from the old thermostat, wrap them around something like a pencil so they don't fall into the wall.
After successfully installing the Nest (and cheering for myself), I spent about 10 minutes following the steps to connect to Wi-Fi and get it set up.
What I didn't mention yet, is needing to fix the holes in my wall where the big, square thermostat took up residence. I could have used the metal trim plate that was included, but I wanted that slick look of the circular Nest right on my wall. This is the part that took me the longest (mostly searching my basement for the leftover paint).
So from start to finish, it took me about 2 hours. If I can do it, anyone can. Now, I have a little more sustainability street cred and a little more confidence in my handy-woman abilities. And let's be honest, the Nest looks cool in my house, too.
I plan to keep a close eye on my utility bill, and I'm excited to see how much it will go down. Because Nest is ENERGY STAR® certified, I know it will help save me energy and money. And here's another tip: Best Buy has a rebate finder where you can check to see if your utility company offers a rebate for buying a smart thermostat.
Learn more about smart home products on BestBuy.com, or stop by a local store and talk to an expert.
For more Best Buy for Good stories, follow us on Twitter @BestBuyCSR.