UNION CITY, NEW JERSEY — Sometimes in life, we have to fail to succeed. Just ask Justin Howell, an aspiring esports basketball star from New Jersey.
After getting passed over in the 2019 NBA 2K League Draft, Justin doubled down. He practiced more, built a support network and changed his mindset. 
What a difference a year makes.
On Feb. 22, Wizards District Gaming picked Justin, 19, in the second round of the 2020 draft. He was one of 229 players vying for 68 open roster spots in the 21-team esports league. It means he'll be taking a six-month break from his computing sales role at Best Buy, and he'll be joining his teammates on the virtual court in Washington, D.C.
"Some players love to talk trash, but that's not me. I like to acknowledge what others are doing well and see how I can apply it to myself."

Justin Howell
The team will pay him a salary, provide insurance and retirement benefits, and cover the cost of his housing. The NBA 2K League is the first official esports league operated by a U.S. professional sports league.
"Not making it last season was a blessing in disguise. It was the lowest point in my life, which allowed me to build myself up," Justin said. "I'm ready to make everyone who has supported me proud."
A dream is born
Justin got his first gaming console in 2013 and soon discovered NBA 2K. He was hooked.
"I've always loved [actual] basketball, but I'm not good at it," Justin laughed. "When the professional e-gaming league was announced two years ago, it became my dream to get paid to play."
Esports is competitive video gaming, often involving multiplayer competitions, and it's wildly popular. Fans attend live events and flock to streaming channels to follow their favorite players. Last year, the global esports audience reached 453.8 million people and generated $1.1 billion in revenue.
After his hopes were dashed at last year's draft, Justin picked himself up and started on a personal development journey. "I wasn't ready to give up," he said. "I started meditating and going to the gym with my brother so I could get my mind and body right and get back to work."
Building his brand
Justin's greatest struggle was getting comfortable with letting others know him. His player name, Just Awkward, is an indication of that.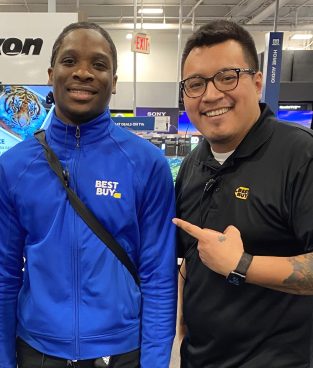 "I've always been confident in my gaming, but not in my social skills," he said. "Working at Best Buy and talking to customers and my co-workers every day really helped me out of my shell."
He credits his Best Buy supervisor, Byron Santos, with building his online presence.
"Social media was not my thing," Justin said. "Byron was like, 'You need to start streaming, and get your stuff together!'"
That required some adjustments. Justin was regularly working in the evenings and helping to close the store, which conflicted with peak streaming viewership that started around 9 p.m. Byron not only changed Justin's work schedule, he also created a streaming schedule for Justin to share with his online followers.
"I told him we've got to perform here [at work], and we've got to perform there," Byron said. "People always come first, and I wanted to do whatever I could to help Justin achieve his dream."
Justin also worked at the perfect place to purchase the gear he needed to stream. "Everything you see in my room — the computer, monitors, camera and headset — is from Best Buy," he said.
On his otherwise bare bedroom walls hangs an 8-by-10 portrait of his mom, Sherene. Justin says it's a constant reminder to stay true to himself.
"Some players love to talk trash, but that's not me," Justin said. "I like to acknowledge what others are doing well and see how I can apply it to myself."
Moment of truth
The 2020 NBA 2K League draft was held at a music venue in New York City. The event sold out.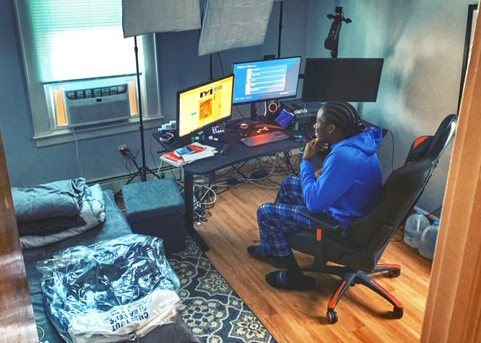 Hours before, as nerves were setting in, Justin's phone rang. It was his mom calling to make sure he was getting ready. She had complained some over the years about the amount of time he spent playing, but she's Justin's biggest supporter.
"We got this," she said on the phone. "And I am so proud of you."
Justin took that positivity with him.
There were four rounds of picks, but Justin didn't have to wait long. From the stage, the league commissioner announced, "With the eighth pick of the second round in the 2020 2K Draft, Wizards District Gaming selects Just Awkward from New Jersey!"
Justin's mom, brother, sister and aunt jumped out of their seats to cheer and hug him before he made his way to the front of the crowd, put on his new team's hat and shook the commissioner's hand.
"I was like, 'Wow! This is really happening! My dreams are really coming true,'" Justin said.
Getting down to work
Justin's Best Buy co-workers, some of his biggest fans, threw him a going-away party on Feb. 29.
Now, playtime becomes work time. Every other week, his team will fly to New York and compete in front of a live audience. Throughout the six-month season, he and his teammates will also compete in tournaments with the hopes of sharing in over $1 million in prize money.
"Most of the money I make from the league will go toward buying my mom her new house," Justin said. "That's my motivation to win."
After the season ends, Justin has a standing offer to return to his job at Best Buy.
"He always has a home with us," Byron said. "We'll be supporting him 100%. We already bought our team merch and plan to put his games on when he's playing."
Justin says he is forever grateful for the support. "I'm definitely blessed."
To learn more about working at Best Buy, check out our careers page.