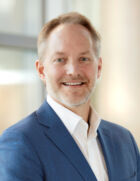 Matt Bilunas is the chief financial officer and senior executive vice president of enterprise strategy for Best Buy Co. Inc. In this role, he is responsible for overseeing all aspects of global finance, inclusive of audit, procurement and financial services, as well enterprise strategy and real estate.
Since joining Best Buy in 2006, Matt has served in a variety of financial leadership roles, both in the field and at the corporate campus. He started as a territory finance director in Los Angeles and has worked in the company's domestic and international businesses.
Matt has been a key finance leader during Best Buy's transformation. Prior to becoming CFO, he was senior vice president of enterprise and merchandise finance. He also has held finance roles in retail, e-commerce and marketing.
Before Best Buy, Matt worked at Carlson Inc., NRG Energy Inc., Bandag Inc., and KPMG. He holds a bachelor's degree in accounting from Iowa State University.