For almost nine weeks, Tonette Grace took care of her grandkids from out of state so their dad could continue working.
Her son, Devon Mouton, lives in Louisiana and was able to work during the COVID-19 crisis because Best Buy was deemed an essential business. But there was one problem: He lost his usual child care because of the pandemic.
Devon and his mom agreed that the best option was to send 3-year-old Nori and 4-year-old Brody to stay with their "Gigi" and "Paw Paw" in Texas.
"Devon was so stressed, but the one thing he didn't have to worry about was that his babies were fine," Tonette said.
Better than fine, really. They learned math, made art and played baseball.
Graduating with honors
The children were able to return home to Louisiana earlier this month. But before they left Texas, their grandma gave them a proper graduation ceremony from "Grandparent Hard Knock School."
"I said, 'I'm gonna end this with a bang,'" Tonette said.
As "Pomp and Circumstance" played in the background, Nori was recognized for mastering the art of brushing her teeth, counting to 10 and writing her name. She earned special honors for eating all the Oreo cookies.
Brody was recognized for counting to 20, learning to take out the trash and eating healthy. He earned special honors for not crying before bed.
Tonette had a special message for Best Buy at the end of the ceremony.
"Thank you to Best Buy for allowing my son to work to provide for his babies," she said.
Devon has worked at the Best Buy store in Lafayette, Louisiana, for four years. He's a Magnolia system designer, where he helps customers design their homes with audio, video and appliances.
He also serves in the Army National Guard as a vehicle operator.
Devon carries a lot on his shoulders, Tonette said. "Everything he does is for those kids."
'Is the virus gone?'
When he's not talking about Nori and Brody, Devon is talking about his other love: Best Buy.
"We have a phenomenal team at Store 347," he said. "We all believe in the blue."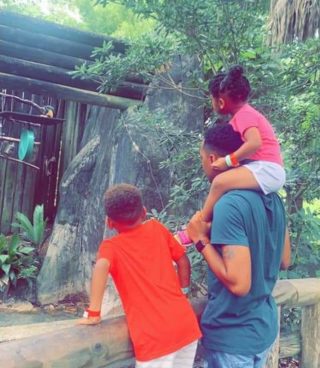 His team members were supportive, he said, and they boosted his spirits by asking about his children.
Still, the time apart took an emotional toll on Devon, who missed having water fights and movie nights with his kids.
"Sixty-two days without my babies — that's not normal," he said.
Nori and Brody felt the same way, although they were in good hands.
"They would cry because they didn't understand what was going on," Tonette said. "Nori would wake up every morning and ask, 'Is the virus gone, Gigi?'"
But it wasn't all tears. Tonette planned a fun curriculum that kept Nori and Brody occupied. They took walks with Paw Paw, learned how to write their names and made a beach in the yard.
Perhaps the biggest lesson they learned wasn't part of Tonette's curriculum — at least not intentionally.
"There are hard things, but you can still make memories," she said. "Life goes on."