COVID-19 has changed the way we think about social interactions at work, and many companies, including Best Buy, are requiring employees to wear face coverings.
While the company is providing face coverings for employees, some have chosen to add a little personal flare by making their own. Others have chipped in to make them for their colleagues around the country, especially early in the pandemic when face coverings were in short supply.
So far, close to 6,000 homemade face coverings have been distributed to employees across the country.
Here are a few of our favorite examples.
A family affair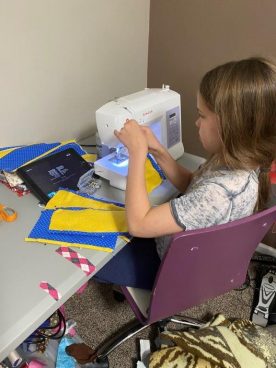 Due to the pandemic, school closed early for Mary Crouch's daughter Layla. The 13-year-old had a lot of time and energy on her hands, and Mary had just learned that a network of Best Buy employee volunteers was making masks in response to a shortage of face coverings in their communities.
Mary, a senior manager for market services in Jonesboro, Arkansas, decided it was the perfect opportunity to teach her daughter how to sew — and a way to give back to fellow employees at the company where she's worked for 15 years.
It wasn't just Layla who got her thinking about making face coverings.
"My mom's a cancer survivor, and I think about the compromised immunity," Mary said. "It's to keep your family safe."
So far, the mother-daughter duo has sewn more than 300 face coverings that have been distributed through Best Buy's network to employees, their families and their communities.
"You can't always do something for everyone, but even a small contribution can make a major difference for someone," Mary said.
3D printing to the rescue
Griffin Jove loves using tech to solve problems.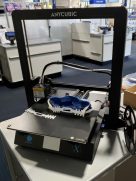 After reading an article about face coverings causing painful irritation for some people, Griffin — an employee at our store in Menifee, California — started using his 3D printer to make straps to relieve pressure from behind the ears.
"I just thought, 'I would be happy to print out the straps for co-workers if it would help ease the irritations the mask can bring,'" he said.
His leaders were immediately supportive of the idea, and even let him bring his 3D printer to the store so he could start handing out straps as soon as they finished printing.
"Best Buy has made my passion for technology and people blend in a way that I would have never imagined," Griffin said.
Coming together at Geek Squad City
Agents at Geek Squad City in Brooks, Kentucky, sewed 600 face coverings for every employee at the technology repair facility. They called the endeavor Project Hope and completed it in just 10 days.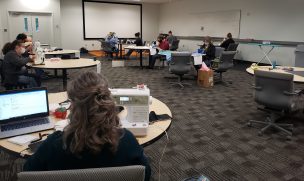 "We are family," said Abigail Graves, a human resources specialist. "In times like these where we are all trying to find our new normal, we should all try to remember that one thing will never be cancelled, and that's hope."
Agents cut, ironed, sewed, bagged and sealed hundreds of face coverings, complete with the Geek Squad logo.
They donated their talent, personal sewing machines and fabric scissors without hesitation to make face coverings from outdated uniforms and Agent undershirts.
"When Project Hope concluded, it was easy to see that Geek Squad City's culture continues to be on fire," Abigail said. "Our employees never hesitate to come together in time of need."
A legacy of love
When Illinois issued an executive order requiring face coverings, Efrain Vazquez knew exactly what to do. He called his mom.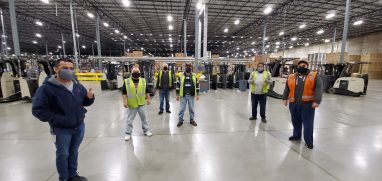 "My mother has an amazing legacy of service to her family and others," said Efrain, a manager at our distribution center in Chicago. "She often made prom dresses for young women who could not afford them, and as a former health care worker has made uniforms for those who could not afford them."
Within three days of Efrain reaching out, his mom called to let him know she hadn't just created a custom mask for him — she also had sewn 100 face coverings for his co-workers.
"I cannot thank my mom enough for the amazing example she has set and lived for me," he said.