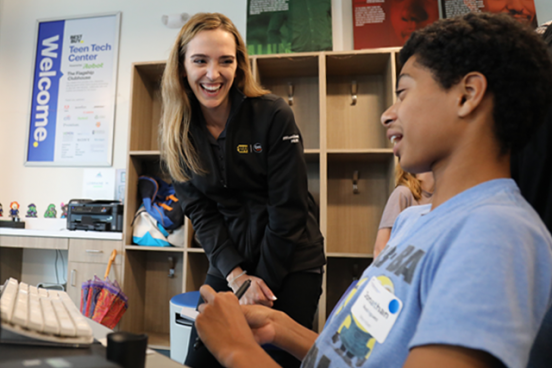 Best Buy inspires people of all ages to connect, learn, innovate, and improve their lives. We believe that technology can empower people to dream big and accomplish great things. Across the country, many communities lack support and access to the tools and training that can unlock a better future and prepare youth for the challenges ahead.
Best Buy Teen Tech Centers are a place where teens can develop critical skills through hands-on activities that explore their interests in programming, film-making, music production and design. Each location works to bridge the digital divide by giving youth access to tech education opportunities, relationships that help to build confidence, and a foundation for school and career success. A partnership with The Clubhouse Network connects members to a global community of over 100 clubhouses in 20 countries.
For more information on our Best Buy Teen Tech Centers and to inquire about future expansion, visit theclubhousenetwork.org/bestbuy.
Alabama
Wallace Community College Selma – 3000 Earl Goodwin Pkwy, Selma AL 36703
Arizona
Jerry Colangelo Branch – Boys & Girls Clubs of Metro Phoenix – 1755 N 34th Ave, Phoenix AZ 85009
California
P.F Bresee Foundation – 184 S. Bimini Place, Los Angeles CA 90004
Health Initiatives for Youth – McClymonds High School, 2607 Myrtle St., Oakland CA 94607
Boys & Girls Club of San Marcos – 1 Positive Place, San Marcos CA 92069
Colorado
Gold Crown Enrichment – 150 S. Harlan St., Lakewood CO 80226
Connecticut
YMCA of Greater Hartford – Wilson-Gray Club – 444 Albany Ave, Hartford CT 06120
Florida
HANDY Inc. – 501 NE 8th St, Fort Lauderdale, FL 33304
Indiana
Martin Luther King Community Center – 40 W 40th St, Indianapolis IN 46208
Louisiana
New Orleans Public Library Main Branch – 219 Loyola Ave, New Orleans LA 70112
Massachusetts
The Clubhouse Network – 2107 Washington St, Boston MA 02119
Michigan
Detroit Hispanic Development Corporation – 1211 Trumbull Ave, Detroit MI 48216
Minnesota
Hennepin County Library — Minneapolis Central – 300 Nicollet Mall, Minneapolis MN 55401
Brian Coyle Center – 420 15th Ave S, Minneapolis MN 55454
Hope Community Center – 611 E Franklin Ave, Minneapolis MN 55404
Keystone Community – 1150 Selby Ave, St. Paul MN 55104
St. Paul Downtown YMCA – 21 4th St E, St Paul MN 55101
CLUES St. Paul – 797 7th St E, St Paul, MN 55106
Missouri
Boys & Girls Clubs of Greater St. Louis – Herbert Hoover Club – 2901 N Grand Ave, St. Louis MO 63110
Nevada
Clark County Library – 1401 E Flamingo Rd, Las Vegas NV 89119
New York
Brooklyn Public Library – Kings Highway Branch – 2115 Ocean Ave, Brooklyn NY 11229
Ohio
Cleveland Public Library – Rockport Branch – 4421 W 140th St, Cleveland, OH 44135
Oregon
Oregon Museum of Science & Industry (OMSI) – 1945 SE Water Ave, Portland OR 97214
Pennsylvania
Phase 4 Learning Center – 5850 Centre Ave, Pittsburgh PA 15206
Texas
Juanita J. Craft Recreation Center – 4500 Spring Ave., Dallas TX 75210
Family Services Association – The Neighborhood Place, 3014 Rivas St., San Antonio TX 78228
Boys & Girls Clubs of Greater Houston – Morefield Club – 5950 Selinsky Rd, Houston TX 77048
Utah
Promise South Salt Lake – Columbus Center – 2531 South 400 East, South Salt Lake City UT 84115
Washington
Boys & Girls Clubs of Bellevue – 15228 Lake Hills Blvd., Bellevue WA 98007
Washington, D.C.
FBR Club @THEARC – Boys & Girls Clubs of Greater Washington – 1901 Mississippi Ave. S.E., Washington, D.C. 20020
Wisconsin
Boys & Girls Clubs of Greater Milwaukee – Mary Ryan – 3000 N Sherman Blvd, Milwaukee WI 53210