The anticipation of visiting a hospital for sick children can stir a range of emotions. Best Buy General Manager Derek Muller expected a heartbreaking experience of seeing kids fighting cancer and other diseases. Instead, on a tour of St. Jude Children's Research Hospital ® in Memphis, he saw hope.
"The children were all laughing and smiling and doing what kids their age should be doing — being kids," he said. "I am so thankful for being able to be a part of this, to see what St. Jude is really about. It was life changing."
Derek leads the Best Buy store in Merced, California, and was one of about two dozen U.S. Best Buy leaders who traveled to the hospital this week. They toured the campus, visited with patients and presented a check for $20.8 million. Generous customers and employees donated the money in stores and online over the holiday season.
It was a record-breaking St. Jude Thanks and Giving® campaign for Best Buy, which also earned the top spot among all participating retailers for the third year in a row.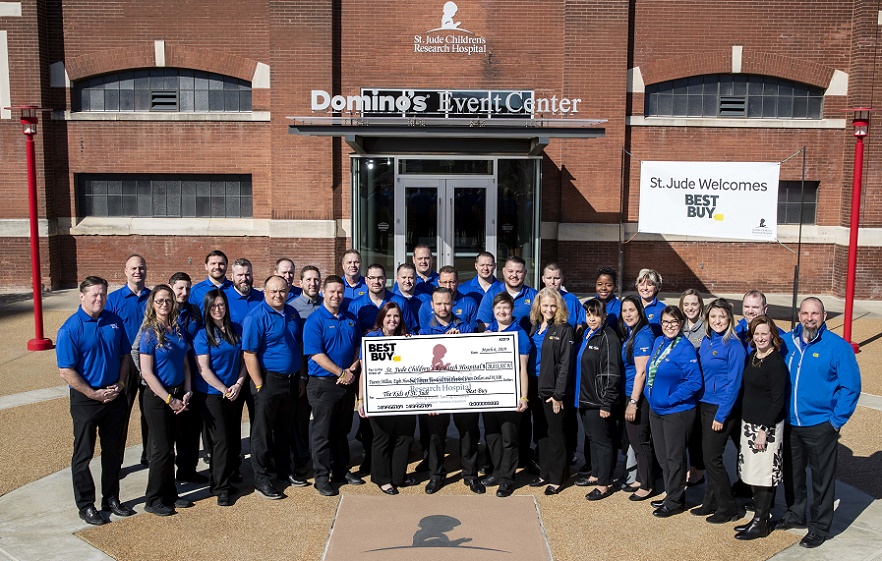 Every dollar counts
As the leader of the Best Buy store in San Juan, Puerto Rico, Diana Bueno also made the trip to see firsthand all the good work being done at the hospital.
"This experience is one of growth and reflection, one of those unforgettable days that makes you a better human being. It reflects how any amount of 'giving' can make us agents of change in our society," Diana said. "It truly was something special and an amazing experience. I feel confident and full of hope to see how St. Jude's medical and research teams achieve excellent work in our children's healing process."
Every dollar given to St. Jude helps keep the promise that families never receive a bill for treatment, travel, housing or food. The funds also help St. Jude continue to lead the way the world understands, treats and defeats childhood cancer and other life-threatening diseases.
Chad Borst, general manager of the store in Gulfport, Mississippi, said he's proud of how his team members rallied around St. Jude and shared their passion with customers by inviting them to join in the cause.
"I will share my experience with them in the pictures that I took and the stories I heard to help illustrate the emotion," Chad said. "It really gives me perspective as to what's truly important, and we all take things for granted daily."
Since 2013, Best Buy has raised more than $80 million for St. Jude. To learn more about Best Buy, please visit BestBuy.com. To learn more about St. Jude, please visit www.stjude.org.