When Best Buy leaders in Pittsburgh learned that a 13-year-old boy with cancer wanted to do a shopping spree at a local store, they were determined to make it happen — even if he couldn't step inside.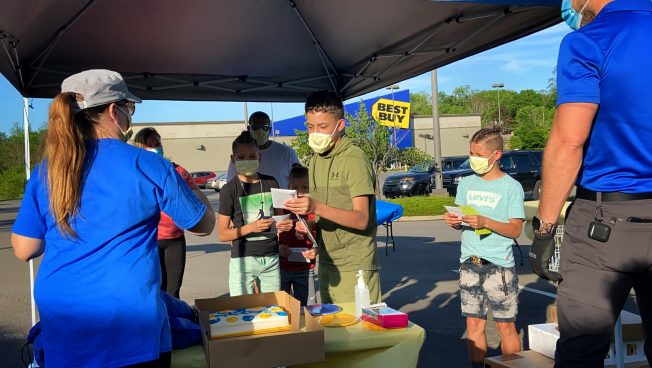 Tony was diagnosed with neurofibromatosis at just 9 months old. He has since been on multiple experimental treatments, and he recently learned that he has a large cancerous tumor in his abdomen that requires chemotherapy and radiation.
Jamie's Dream Team, a local nonprofit that helps fulfill dreams of individuals facing severe life difficulties, was hoping to fulfill Tony's wish to go to an amusement park and a pro basketball game. Unfortunately, COVID-19 interrupted those plans, so the organization turned to Best Buy to fulfill Tony's second dream of a shopping spree.
Aaron Sensabaugh, general manager of our store at the Century III Mall in Pittsburgh, didn't hesitate to come up with a creative solution to make Tony's dream come true.
Aaron worked with his leaders and peers, and together they helped coordinate a "parking lot shopping spree" at the Best Buy store in nearby Bethel Park. There, Tony could get all the items on his wish list while still following social distancing guidelines.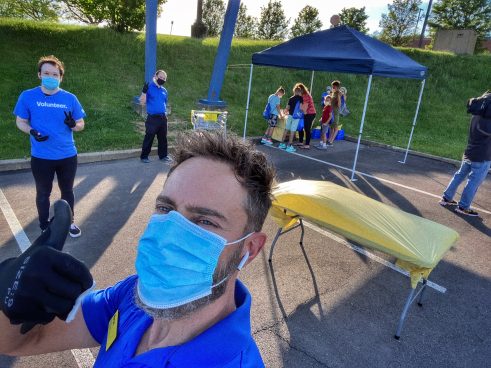 They set up a large tent in the parking lot, stocked it with products on Tony's wish list and gave him his own shopping cart. Aaron acted as Tony's own personal consultant, telling him about each tech item.
Meanwhile, Best Buy employees stood at least six feet apart in the parking lot and cheered for Tony, making the evening even more fun.
The event lasted about an hour, and Tony filled his shopping cart with a small TV for his room, a laptop, Apple Watch, wireless Beats headphones, a drone and a Roomba (for his chores). Aaron and team also donated an additional $100 Best Buy gift card for him to use later.
"In this time of uncertainty, it was a reminder of what it is to be human," Aaron said. "We've been living in our heads for months. It's time to start living with our hearts again."