HUMBLE, TEXAS – It was late August, Hurricane Harvey had already made landfall in Houston, and Travis Shahan, general manager of the Best Buy store in Humble, thought things were going to be fine.
Located on the north side of the Houston area near Bush Intercontinental Airport, the Humble store had always been safe from flooding. In the middle of the night, however, Travis got a call from the alarm company that serves the store. The motion detectors had gone off, but nobody was in the store.
The next morning, Travis got a call from one of his employees saying that he couldn't get to work.
"I said, 'What do you mean, you can't get to the store?'" Travis said. "I didn't think we were flooded. We were."
Water, water everywhere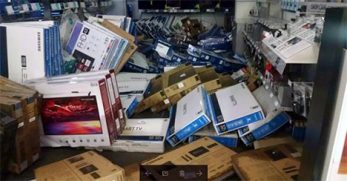 It turned out there was about 3 feet of water throughout the Humble store and the rest the shopping center it's part of.
Then Travis quickly realized why the motion detectors were tripped: There was so much water in the store that boxes on the floor holding TVs started moving around. When the water finally receded and he was let back into the store, it was a mess. There were refrigerators flipped on their sides. Products had drifted across the store.
"I was blown away. This is my home, I come here every day," said Stephen Aleman, a home theater supervisor. "When you see your home away from home destroyed, it makes you stop and think."
Back in business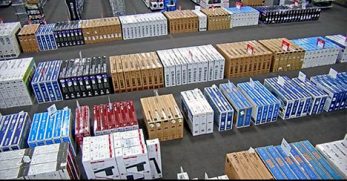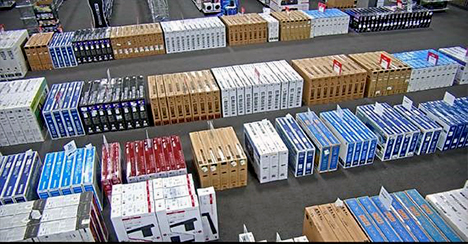 On Nov. 2, all the Houston-area Best Buy general managers gathered at the Humble store for a ribbon cutting to mark its reopening. All our Houston-area Best Buy stores closed for at least a few days because of Harvey, but the Humble store was the only one to sustain extensive damage and be closed for an extended time.
"It was really cool to be able to go up there and support them," said Pipo Rodriguez, general manager of the Houston Bunker Hill store. "I'm so happy they're able to get open again."
While the rest of the stores in the shopping center remain under construction, Best Buy has been welcoming customers.
The inside of the Humble store isn't perfect. Some fixtures are missing, and it's not fully stocked. But it's back serving a community hard hit by flooding. Employees who spent the past several months working their shifts at several nearby stores are back and getting ready for the hectic holiday shopping season.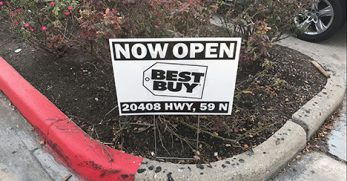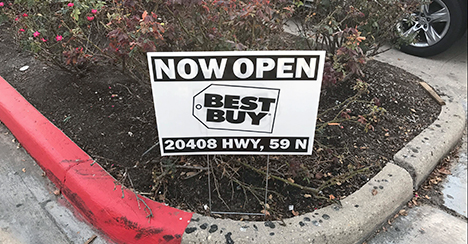 "The customers are super excited. Everyone is super pumped," Travis said. "A week and a half ago, there was nothing in here."
Small signs have popped up in the grass along some busy roads to let people know that Best Buy in Humble is open and ready to help them solve their technology needs.
"It's so wonderful," Stephen said. "Everyone is super happy to be back. We're anxious to get the store back to where we want it. It's not perfect, but we're here and we can help our customers again."