For Justin Durrant, even the little things were becoming a struggle. Tying his shoes. Getting the mail. Taking out the trash.
He was 37 years old, weighed 340 pounds and both his parents had died young of heart disease. He decided it was time to do something.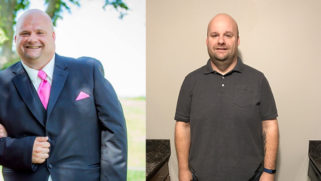 "I wanted to be around for my kids," he says. "Genetics were playing against me, so I figured I'd take control of what I can."
As we mark American Heart Month in February, stories like Justin's serve as a reminder of how important it is to keep that ticker healthy. Cardiovascular disease is the number one killer of men and women in the U.S., and obesity is a huge factor.
Once Justin decided to take control last June, the first thing he did was buy a pair of running shoes — so he could walk. He also put a treadmill by the desk in his home office.
"I'd get in a couple hours of walking, just doing the work I'd normally do," says Justin, who works in IT at Best Buy. "Within the first few weeks, I started feeling better, sleeping better and breathing better."
A little help from technology
The treadmill work led to walks around the neighborhood, and the pounds started melting off. Justin then turned to technology for a little more motivation. He bought a Fitbit Charge HR and a Fitbit Aria Wi-Fi scale to track his progress.
"I'm a metrics/analytics guy, so keeping track of the data points really helps me," he says. "The scale links to my Fitbit account and tracks my weight. It's pretty seamless."
So far, averaging 15,000 steps a day, Justin has lost about 55 pounds and wants to lose another 50 or so by next fall. He says there's no secret to his success — just common sense.
"It's eating less and moving more. There are no magic pills," he says. "I'm eating a lot of the same things I used to, just in moderation."
His next goal is to run a 5K race this spring.
"I can't quite run for long distances yet, because it's hard on my knees and joints, but I can do stints of five minutes running," he says. "Before, I couldn't last five minutes walking."
Of course, there is a downside to Justin's remarkable transformation.
"I don't eat as many chicken wings as I used to, which is unfortunate," he deadpans. "But I'll get over it."
Looking for some tech to help you with your health and wellness goals? Go to BestBuy.com or stop in to a nearby store and talk to an expert Blue Shirt.