Herb Williams sits down at his piano, looks at the camera and starts to play. His fingers bound across the keys with a familiarity only eight decades can bring, then the 91-year-old posts the video on Facebook.
He's repeated this scene nearly every day since COVID-19 sequestered people in their homes last spring. And he learned the skills from two Best Buy Canada Geek Squad Agents — as part of Best Buy Health's Digital Citizen service.
Agents Rachel Sturm and Chadd Sine began teaching digital literacy skills to seniors a year and a half ago through a partnership that brings technology workshops and support to seniors at select Amica Senior Lifestyles residences in Canada.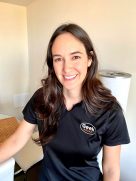 Topics range from using a mobile phone for tasks like texting and online banking to learning how to use tablets and connect with family on video calls. During the pandemic, Best Buy Canada switched to offering virtual learning and tech support to keep seniors safe and connected from a distance.
The workshops were the perfect opportunity for Rachel, who'd been working in Geek Squad for the past three years. In college, she studied social work in gerontology. Now, she can't believe she gets paid to teach seniors how to use technology.
"I think we learn as much from seniors as they learn from us," she said. "Especially hearing their stories — it's a different perspective. You never have a bad day with the residents. It's so rewarding."
For Chadd, he loves seeing how the seniors amaze themselves.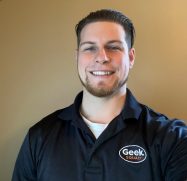 "You get the comments all the time: 'Oh, we're dinosaurs, and we don't know how to do this.' So, when they are able to use their device on their own and really impress themselves, that's probably one of the best parts of doing this," he said.
And Herb is a living testament to the difference the workshops are making. Not only has he mastered using his phone to record and post videos on Facebook, he sees his newfound knowledge as an opportunity to champion the use of tech with other seniors.
"They always say, 'When we grew up, we had a telephone hanging on the wall, and we got this far without a cellphone,'" Herb said. "But I want to show how technology enriches our lives."
'Keep hitting the keys'
The second oldest of six kids, Herb grew up in depression-era Toronto.
"My mother propped me up on a piano bench when I was 4 years old and said, 'Keep hitting the keys so I'll know where you are,'" he said.
And his love for playing the piano was born.
His storied career took him all over the world. He's been a teacher, a personnel manager and an account executive. Then, 40 years ago, he founded a stunt-dog show and at times performed for crowds of 25,000.
Because of Canada's recently declining COVID-19 cases, the seniors at Amica have been able to start gathering safely again, and Herb has been putting on a show for small groups of socially distanced seniors.
Once, after a performance, a blind woman told him it was the first time in years she'd remembered anything in color.
"Would I like to go back and play the piano in front of 25,000 people again or is it fun to bring people to life on the memory care floor?" he asked. "I wouldn't trade it for the world. While, it's a senior residence, I'd like to think that we're still living."