Just days after George Floyd was senselessly killed in Minneapolis, Elizya Powell and Alexander Cash were making music when they had a realization: They could use their voices in a different way.
So they got up, made signs and started a protest to raise awareness around racial injustice.
They marched through Pittsburgh and handed out water bottles to police. Within a few hours, a crowd of 40 to 50 people had formed.
"We wanted to show how it should be done without it getting violent and send a message at the same time. Spread love not hate," said Alexander, who goes by Cash.
Elizya and Cash say the local Best Buy Teen Tech Center in Pittsburgh helped them developed the confidence and leadership skills they needed. They graduated from the program last year but have remained involved.
"This is always home for them. It's home base," said Aaron McKinnon, the coordinator at the Teen Tech Center. It is located within PHASE 4 Learning Center, a nonprofit on the city's east side.
More than tech
In a Best Buy Teen Tech Center, students learn new tech skills, nurture positive adult and peer relationships, and get exposed to new career possibilities.
"It gives the youth a place to grow, learn new things and expand upon what they're already good at," Aaron said. "Building that relationship is the first and foremost thing."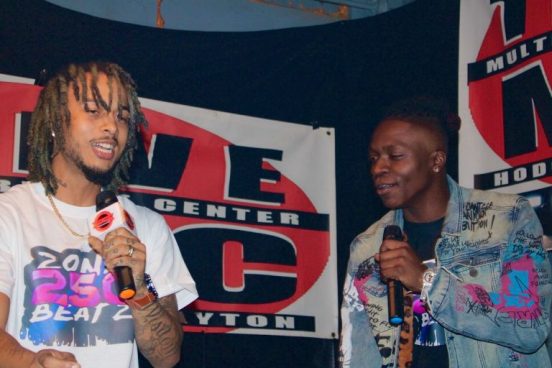 Elizya and Cash initially got involved in the center to improve their skills as musicians, but they discovered that the program had a lot more to offer.
For Elizya, it was confidence.
"At first when we went out to the protest, I didn't have the confidence inside me to stand out there, scream at the top of my lungs and have my voice be heard," he said. "But because of so many conversations at the tech center with other people, I had the confidence in me to do it."
Cash was able to get his high school degree and improve his music. But he also benefited from the mentorship and connections he made.
"If I hadn't come here, I probably wouldn't even have gone out there [to protest]," he said. "Who knows where I would be at right now."
For Aaron, that's the beauty of Teen Tech Centers.
"You worked up to getting into the studio, then you got confident with that and the next thing I'm seeing is a year later, you're out here on the corner with some signs," he said. "You have a voice that you want heard, not just in the tech center with music but to the world."
Click here for more information about Best Buy Teen Tech Centers, including a list of locations.