Today, Facebook announced the latest in video calling: Portal and Portal+, two new video calling devices that bring your friends and family closer than ever, no matter the distance.
Portal+ and Portal are home video communications devices that make it easier to stay connected with loved ones. The devices use Messenger to easily connect with friends and family, even if they don't have Portal. You can include a total of seven people on a group call, which makes group calls easier and more fun than ever.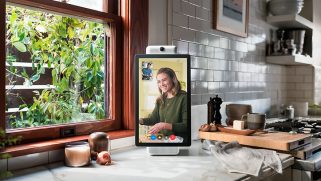 What makes Portal and Portal+ unique is its Smart Camera, which automatically pans and zooms to keep everyone in view. So, there's no need to sit still while on a call. The camera adjusts to follow the action, and as more people enter a room, the camera will automatically widen to keep everyone in the frame. When you're not on a video call, you can use the camera and mic off button and cover the camera with the lens cover.
Because voice technology is such an important feature in tech today, Portal is also voice-enabled. You can use your voice to start your call hands-free by saying "Hey Portal, call [name]." It even has Alexa built-in, so you can control your Alexa-enabled devices and ask questions about sports scores, check the weather, shop and more.
Portal is available for preorder now on BestBuy.com for $199, and Portal+ is $349. Even sweeter? Customers who pre-order any two devices will get $100 off. Both Portal and Portal+ will arrive in stores in November, and Best Buy will be one of the only places where you can check it out firsthand.
To learn more about Portal and Portal+, visit BestBuy.com or talk to an expert Blue Shirt at your local Best Buy store.