Just in time for the holidays, Best Buy – with some help from a consumer survey – has created a list of tech products that will have everyone doing the Jingle Bell Rock. From items under $100 to wearables, here are the hottest gifts this year:
Gifts Under $100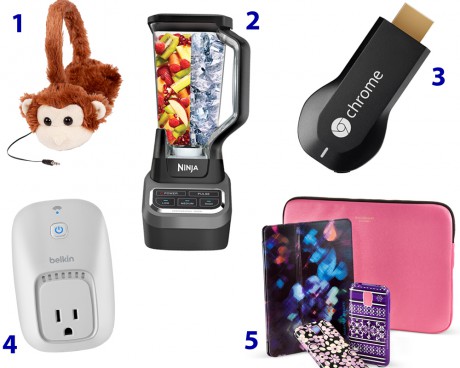 We get it – you have to buy your girlfriend's godparents, younger brother, AND next-door neighbor gifts that will convince them you're living large, but you're on a tight budget. Here are some quality gifts under $100.
Kids will love the fun and fashionable (1) Animalz Over-the-Ear Headphones ($19.99) from ReTrak. With designs ranging from sharks to monkeys, you might be so charmed by these creatures that you'll want to keep them for yourself (we wouldn't blame you). For a gift that keeps on giving, snag the (2) Ninja Professional 1000 3-Speed Blender ($99.99) and save a friend from their costly addiction to smoothie shops.
Whether the people on your list still use a flip phone or are always sporting the newest tech gear, they'll love how simple it is to stream music and videos to their TV with (3) Chromecast ($32.49) And for the person who always leaves the coffee pot on, the (4) WeMo Switch ($49.99) gives the power of controlling electronics remotely with a smartphone.
And if you're looking to please a trendsetter, give the gift of style with (5) fashion designer tech accessories ($29.99 to $99.99) for cell phones, tablets, or laptops that will have them striking a pose as soon as they unwrap their gift.
Streaming Devices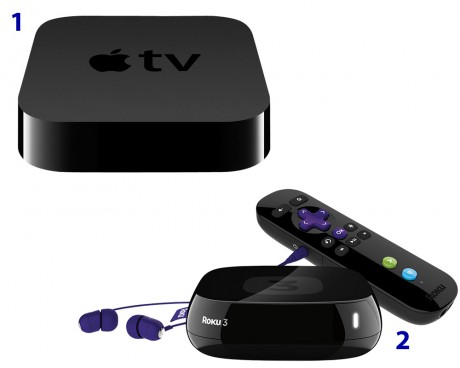 Let's face it, there's bound to be someone on your list who's always complaining about how big their cable bill is. Save them (and yourself) from the nagging with (1) Apple TV ($92.99) and the (2) Roku 3 ($94.99) – they'll be too busy binge-watching Downton Abbey to have time for complaints.
Phones/Tablets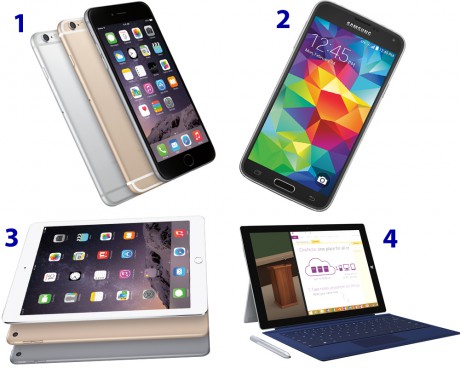 The smartphone theme these days seems to be bigger is better – at least when it comes to screens. For the sharpest image around, the (1) iPhone 6 ($299.99) and (2) Galaxy S5 ($199.99) are the best in class, and a perfect gift for anyone tired of squinting at their current, smaller screen.
For a tablet that will turn heads, check out the thinner-than-a-pencil (3) iPad Air 2 ($499.99). That indecisive person on your list will love the tablet/laptop combo of the (4) Microsoft Surface Pro 3 ($799.99) – it's the best of both worlds!
Headphones/Speakers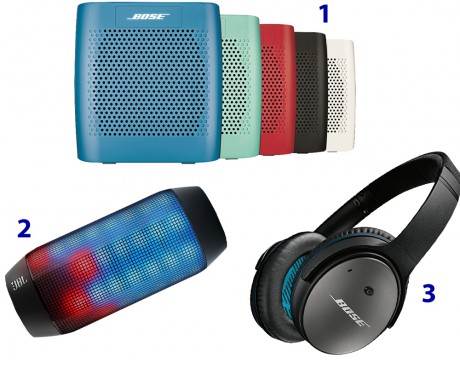 The (1) Bose SoundLink Color ($129.99) will have that party planner on your list serenading their guests with those Frosty the Snowman covers they've been collecting over the years at their next party. With the (2) JBL Pulse's  ($199.99) customizable LED light show, you can kick back with a tall glass of eggnog and let your speakers do the entertaining.
For a traveler or just a music aficionado, (3) Bose QuietComfort 25 ($299.99) noise-cancelling headphones provide a top-notch, uninterrupted listening experience.
Home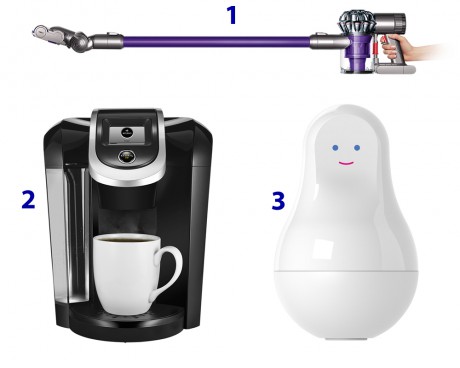 Give the gift of a hassle-free vacuuming experience with the (1) Dyson DC59 Vacuum ($499.99), a cordless and bagless device that makes housecleaning ultra-simple.
Minimalists and anyone always on-the-go will love making their favorite drinks in a jiffy with the (2) Keurig 2.0 K350 ($149.99). And for the person, who has everything, check out the (3) Mother device ($299.99), an innovative home monitoring system that promises to be "like a Mom, only better."
Wearables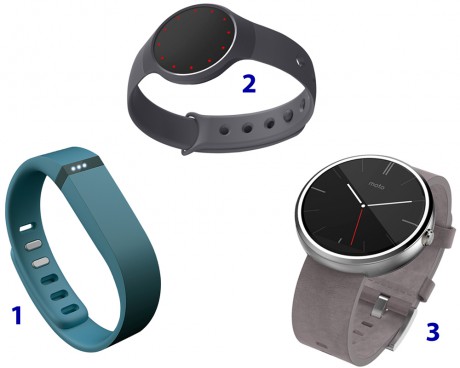 Everyone from couch potatoes to fitness fanatics can up their activity with health and fitness monitors like the (1) Fitbit Flex ($99.99) or the waterproof (2) Misfit Flash ($49.99), which can measure everything from steps taken to sleep quality. For those who like their function mixed with fashion, the flashy (3) Moto 360 ($249.99) smartwatch packs cool features into a sleek, trendy design.