Customers don't just come to Best Buy for the latest tech. They come for our knowledgeable employees who can provide expert service to help them find the right products and solutions that meet their needs.
It doesn't happen by chance. Last year, our employees participated in millions of hours of training in classrooms and online. Sessions range from new-hire orientations to product knowledge to leadership development.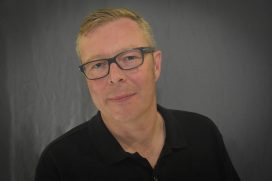 We've built a reputation as an industry leader for our efforts. We just ranked No. 3 on Training magazine's 2019 Training Top 125 list of the world's most successful programs. It's our third straight year in the top 10.
We also won an Outstanding Initiative award for our Best Buy Certified program, which requires store employees to go through extensive training and be approved by their manager before they're allowed to start helping customers on the sales floor.
To learn more about Best Buy's focus on training, we talked to Alistair Dobbie, the senior director who leads our 100-person Learning & Development team.
First off, why is training so important to Best Buy?
As a company, we recognize the importance of having knowledgeable, skilled people who can meet and even exceed customers' expectations. Technology is changing so fast, and customers want to talk to someone they can trust to help them find the solutions that address their needs. From a training perspective, we're trying to do it from a customer and employee lens vs. just the business lens. And we've become really good at it because we have a great level of leadership buy-in across the company. Everyone recognizes training is important.
What type of training to Best Buy employees receive?
A new sales employee experiences a variety of classroom training, virtual training, video and online learning. Then you get certified by your own leader, not the trainer. You have to demonstrate how good you are to get certified, and then you have to maintain your certification over the years through quick, bite-sized learnings. So, from a customer perspective, that means you're talking to someone who has been able to prove that they are of the level of knowledge and skill that customers want.
Is that having an impact on the customer experience?
Associate knowledge is the highest it's ever been, and our overall Net Promoter Score for customer satisfaction has risen consistently, which indicates that our people know what they're doing and how to do it. We know our success with customers is driven by the enthusiasm and talent of our employees. Our employees are passionate, knowledgeable and engaged in what they do — and they're hungry to know more.
Has the way Best Buy trains employees changed much?
Five or 10 years ago, the classroom was the centerpiece of our training program, but that's no longer the case. We still use the classroom, but we've also increased our virtual classes and developed a lot of other tools that are quick and easy to use. We're meeting employees where they want to be. Looking forward, we'll continue our journey from a training culture to a learning culture. We want to create a culture of continuous learning at Best Buy.
Click here to learn more about careers at Best Buy.