When it comes to wedding planning, my buddies told me to get excited about the taste testing, but not so much about going to register for wedding gifts. I understood where they were coming from. Hours of reflecting on china and glassware are not necessarily my idea of a good time.
However, my enthusiasm for bridal registries took a major change for the better this past weekend when my fiancée, Hannah, and I became the very first couple to register on Best Buy's new wedding registry. We were given the honor following a good deal of media coverage of my proposal to Hannah last month and how Best Buy's customer service played a major role.
I was looking in the Best Buy camera department for a way to document my proposal and met Danielle Nazzaro, a generous and very special sales associate. Danielle provided the ultimate customer service experience when she offered to help me memorialize the moment (or hours in our case) by offering to videotape the entire four-hour proposal.
There was no need for Hannah to twist my arm when we were given the opportunity to register at Best Buy for wedding gifts. In fact, after about 2 hours, she literally had to pull me out of the store.
Danielle was there and helped us navigate our way through Best Buy. I felt like I was a kid in a candy shop. I got to pick out a 70-inch flat screen TV, a Nikon Camera, and a Sonos speaker system, while we were both drawn to the more traditional gadgetry like coffee makers and KitchenAid mixers. And Hannah made me add a nasal hair trimmer and an electric toothbrush for myself. Who knew Best Buy sold these?
One of the coolest features of the Best Buy registry is "group gifting" – the ability for people to contribute to the cost of an item where they wouldn't be interested in spending the full price of the gift. For example, I'm thinking maybe 10 of my nearest and dearest friends may want to contribute to that 70-inch flat screen! It's kind of like crowd-funding!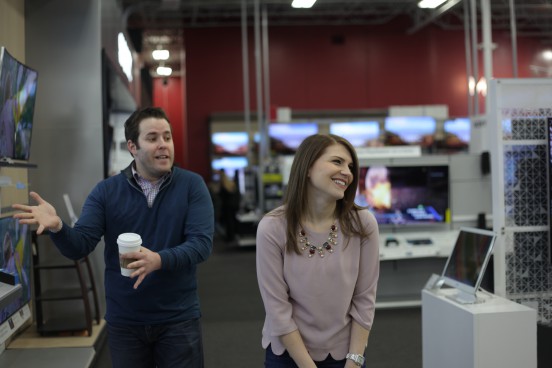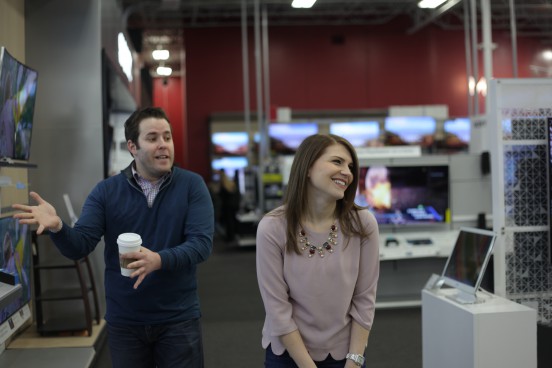 On top of it all, Best Buy surprised Hannah and me with a gift card for $1,215 – a number that corresponds to the date we got engaged, Jan. 2, 2015. I suspect we'll have a bit of negotiations over the next few months as to what we will buy with the generous gift card.
Best of all, the registry is easy to use. While we were at Best Buy, Hannah wasn't keen on me registering for my favorite item in the entire store. It was the Samsung 78-inch Curved Ultra HD Smart TV. However, once home, I was able to quickly log on and add it from my phone. Hey, a guy can dream, can't he?