Technology is coming to the classroom as more schools look to tablets and laptops to help teach kids across America. It might be happening faster than you think. Consider these stats:
Education Market Research says schools and districts are expecting to increase their spending on tablets during the 2014-15 school year by an average of 8.6 percent.
The Washington Post reported U.S. schools were expected to purchase 3.5 million tablets by the end of 2014. And worldwide, K-12 spending on tablets increased 60 percent from 2013 to 2014.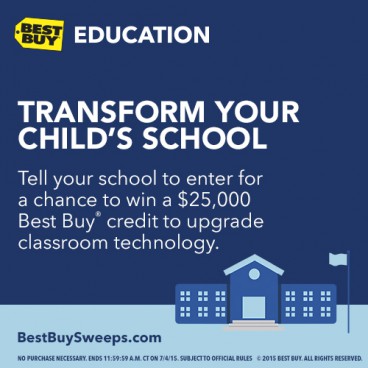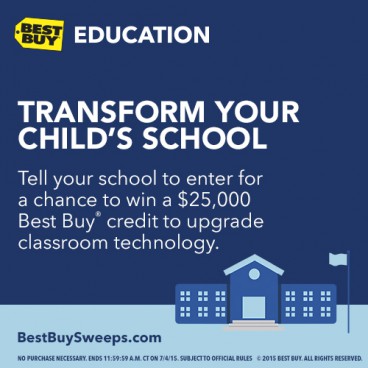 That's where Best Buy For Business comes in. Best Buy For Business isn't just for business customers anymore. It now also helps educational institutions with their technology needs,  from hardware to software to networking to managing devices, and everything in between. Schools that work with Best Buy Education, a new division of Best Buy For Business, get access to the latest products to suit the classroom, as well as special services, pricing, purchasing options and support.
And now, school employees of qualifying K-12 or post-secondary schools can enter on behalf of their schools for a chance to win a major technology upgrade during the Best Buy Education Sweepstakes, going on now through July 4, 2015. One lucky school will win the grand prize of $25,000 worth of qualifying Best Buy products, services and support. Two schools will win $2,500 in Best Buy gift cards, and five schools will win a Microsoft Surface Pro 3 128 GB tablet with keyboard. No purchase is necessary.
To get full details on this sweepstakes and enter, go to bestbuysweeps.com.
Follow Best Buy Education on Twitter @BestBuyEdu and learn more about Best Buy For Business by visiting your local store, going to bestbuy.com/education or calling 1-800-373-3050.
Eligibility is open and offered only to legal residents of the 50 United States and the District of Columbia (excluding Puerto Rico), who are 18 years of age or older (except residents of Alabama and Nebraska who must be 19 years of age or older), and an employee (excluding independent contractors or substitute teachers) of an accredited kindergarten through grade 12 or post-secondary school with 100 students or more (excluding pre-schools and home schools) at the time of entry.