Brodie, a 12-year-old from Massachusetts, finds happiness in video games and watching movies with his younger brother as he battles leukemia.
These two activities prompted him to make a wish: He wanted to have a shopping spree at his local Best Buy store.
The Make-A-Wish® Foundation of Massachusetts and Rhode Island heard about Brodie's request and went to work.
"He very specifically wanted Best Buy, so, it was getting in touch with someone from the exact store then figuring out what's possible," said Hannah Arbuthnot, wish grantor, Make-A-Wish® Massachusetts and Rhode Island.
Brodie's wish was to have a 50-inch TV, Amazon fire tablet and a gaming chair that sits on the ground. It didn't take long for the Make-A-Wish and Best Buy teams to make it come true.
The dream team
Make-A-Wish contacted our store in North Dartmouth about Brodie's wish for a shopping spree, and they were happy to make it happen.
"It was a team effort. If all 86 employees could have been there, they would have," said Teresa Francisco, assistant store manager.
Team members and staff made the spree a big celebration by blowing up balloons and presenting Brodie with an embroidered blue shirt with a customized name tag — making him officially part of the Best Buy family. One team member even dressed up in an inflatable shark costume in honor of Brodie's favorite movie, Jaws.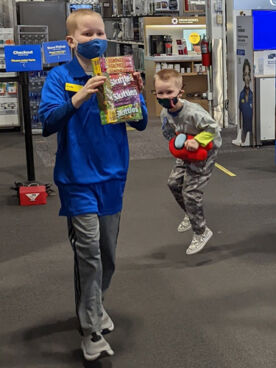 "I still get goosebumps thinking about how involved the entire team was to make the day so special for Brodie and family," said Francie Grasso, a Make-A-Wish volunteer.
To make the day even more magical, Teresa and team made sure Brodie's 5-year-old brother, Garrett, felt equally as special and gave him a gift bag.
When the shopping expedition ended, a smiling Brodie and his family took pictures with the Best Buy team.
The products he picked out were loaded up and delivered to his home by Geek Squad Agents.
"Everything went great," said Agent Dan Bender, who helped with the deliveries. "I wish I could do it again."