It's that time of the year when shoppers in certain states can get their hands on new tech tax-free before school starts. To help you shop smart and save big, we're here with some advice for crossing off some of those back-to-school essentials on your shopping list.
This year, multiple states will have tax exemptions on select products, including laptops, tablets, computing accessories, and more. We're looking at you, Arkansas, Florida, Missouri, South Carolina, and Tennessee.
See the gallery below for a breakdown of tax-free sales by state. (For full details on your state's tax-free weekend, check your local department of revenue website.)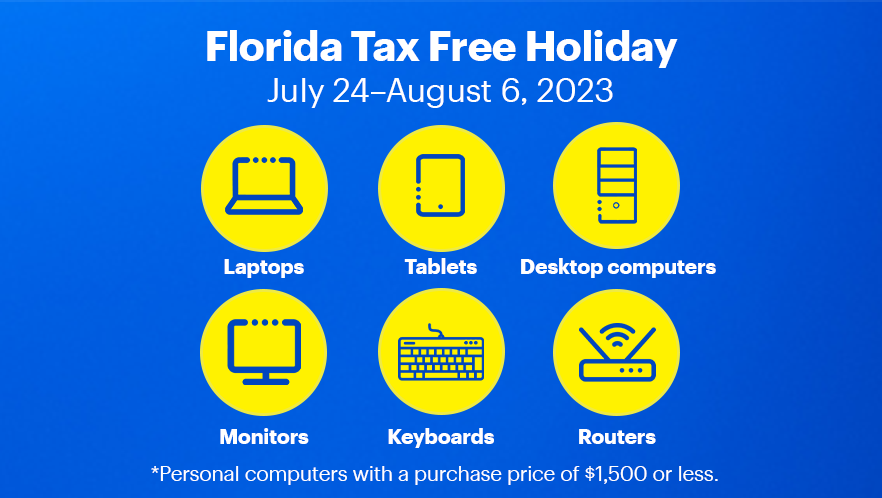 Take advantage of back-to-school deal
Tax-free savings stack with Best Buy's back-to-school deals, so keep an eye out for discounts on tech from brands you love, including Apple, Dell, Lenovo, HP, Samsung and more.
Best Buy's Student Hub has deals all summer long, as well as tech recommendations and tips. Make sure to check back often to see what's new.
Speaking of doubling up on deals, at Best Buy, it pays to be a member of our My Best Buy Memberships™ program.
Looking for members-only prices and an extended 60-day return window? My Best Buy Plus™ is just $49.99/year1 and also offers members exclusive access to sales events and highly anticipated products, as well as free two-day shipping with no minimum2.
And if you want all the benefits of My Best Buy Plus™, along with Geek Squad 24/7 tech support and up to two years of product protection3, then My Best Buy Total™ could be a perfect fit for $179.99/year.
Sign up free with an email for the My Best Buy™ tier and receive free, standard shipping on all purchases with no minimum4.
Shop how you want
Another great thing about shopping with Best Buy is that you can shop when, how and where you want. That could be in-store with an expert, on your laptop on BestBuy.com, or on the go through the Best Buy app. And our experts at the Virtual Store can help tackle your tech questions quickly and conveniently through chat, video, or audio call.
Shop back-to-school tech at the Best Buy Student Hub.
---
1 My Best Buy Plus™ and My Best Buy Total™ memberships automatically renew and are subject to complete Terms and Conditions. A My Best Buy™ account is required, subject to the My Best Buy™ Program Terms. Memberships may be canceled at any time.
2 2-day shipping not available in all areas. Select items limited to free standard shipping at the time of purchase. Limitations apply, including extra days for shipping due to limited inventory or constrained carrier capacity. Orders to P.O. Boxes may result in additional shipping time.
3 Product protection only applies to purchases at Best Buy®. Terms and conditions apply. The complete Terms and Conditions for Best Buy Protection and AppleCare+ can be found at BestBuy.com/ServicesTermsConditions under the "Protection" tab. Canceling your membership will cancel any remaining months of protection plan(s). Best Buy Product Protection, Inc. is the Obligor and Administrator of the Coverage under Best Buy Protection Plans. The company obligated under AppleCare+ in the United States is AppleCare Service Company, Inc., an Arizona corporation and wholly owned subsidiary of Apple Inc., doing business in Texas as Apple CSC Inc. Service fees apply to Coverage under AppleCare+ and Best Buy Protection. Claim limits apply to Best Buy Protection.
4 Exclusions, terms and conditions apply. See BestBuy.com/Shipping for details.