Geek Squad Academy is an educational program that partners with local nonprofits and other youth organizations that share a focus on teaching youth and teens about technology.
For most students, a Monday off from school could seem like a perfect time to sleep or hang with friends. On Jan. 20, 40 girls chose to spend their free day getting hands on with tech at a Best Buy Geek Squad Academy.
They were from Project Scientist, a national program that exposes girls as young as 4 to science, technology, engineering and math careers. The event, held at Best Buy headquarters in Richfield, Minnesota, included building computers, circuitry and digital music.
This is important work, because right now, only 28% of STEM professionals are women.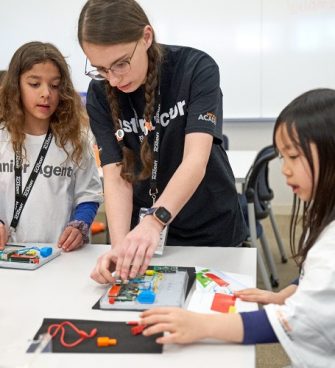 "From a very young age, girls get the message that these jobs are not for them, that they are not good at math or that technology is for boys," said Andrea Wood, head of Social Impact at Best Buy. "As a society, we need to change the narrative for girls as they're growing up so they see themselves in these jobs, believe they will be successful in these jobs and want to do these jobs."
Study after study has shown there is no genetic factor that makes you have an aptitude for something. It's all about exposure. At Geek Squad Academy (GSA), youth and teens get hands-on training in coding, digital music and film production, photography, 3D design and more. After two days of interactive classes, participants earn "Junior Agent" status.
One Junior Agent is Emily, 11, who has attended several GSAs and now helps the instructors.
"It feels good getting to help my peers," she said. "It's also fun being around other kids who love STEM the way I do. We bond during camp. If there was no Geek Squad Academy, I might have never met them."
To date, GSA has brought camps to over 100 cities and military bases and generated tens of thousands of Junior Agents across the U.S. and in Canada.
Our humble beginnings
In 2007, several enterprising Geek Squad Agents piloted programs in the Midwest to teach high school students how to build their own computers. During the pilot, a woman Agent surveyed the local technical education market and realized none of the programs were designed for young women.
She decided to change this, and in the summer of 2007, the first GSA was born. Our weekend PC builds in Chicago were replaced with a weeklong technology camp for girls. Two years later, we expanded the camps to include both young women and men (ages 10 to 18).
Devyn is an Agent who volunteers with GSAs and loves seeing the reaction of young people when they figure something out.
"I've taught kids to write music, take pictures and make movies. Not matter the task, it's great to see them excited about their end results," Devyn said. "And for the girls I help, you can see it click, that, 'Oh, this is a possibility!'"
There's more work to be done
In 2020, we're still seeing a huge disparity when it comes to women working in tech, and Best Buy is working to change that. In addition to our own programs, we support organizations that work with girls, like Technovation[MN]. It's a competitive program that enables teen girls to dream up, design, code and pitch mobile phone apps that can solve social problems.
Best Buy also partners with the YWCA and the Women's Foundation of Minnesota to get girls engaged in tech early on and stick with it as a career. Along with the Melinda Gates and the Reboot Representation Tech Coalition, we are working to double the number of underrepresented women of color who earn computing degrees by 2025.
Click here to learn more about how Best Buy is working to close the gender gap in STEM.