When Olivia Farley became coordinator of the Best Buy Teen Tech Center at Keystone Community Services this fall, she noticed something was missing: girls.
The center, located in St. Paul, Minnesota, is one of about 35 Teen Tech Center locations across the country. It opened in 2017 as a place where teens can explore their interests in all things tech, from coding and graphic design to filmmaking and everything in between.
Giving youth — especially girls — access to tech education opportunities is important to Best Buy. We're committed to closing the gender gap and helping train girls for the careers of the future.
That's important to Olivia, too.
"Many of the teens don't have the opportunity to take advanced classes in school or have family members in STEM-related fields," she said. "So, we try to expose them to different paths in life. In particular, it's important to get more young women involved in STEM fields to break the glass ceiling."
Women make up 29% of all science and engineering occupations, with women of color making up a mere 13%, according to a report by the National Science Foundation.
Olivia could see these numbers reflected in the makeup of her own center, which is primarily attended by young men. So, she had an idea to create a program — and a space — for young women. She calls it the Girls Coding Camp.
"There are high school-aged girls out there and plenty who want to be involved in tech, so we're trying to reach more of them and create a more comfortable environment for them to learn," she said.
The socially distanced camp takes place every Wednesday for four weeks. The students are learning programming language JavaScript from two Best Buy employee volunteers who signed up as mentors. JavaScript can be used to develop games, build apps and even program robots.
One of the mentors, Kat Traxler, works on cloud security at Best Buy. She was drawn to the program because she wasn't classically trained in the field but attended a software development bootcamp before joining Best Buy.
"I'm excited for more teens to be exposed to these programming concepts," Kat said. "Only two girls signed up this round, but maybe next session we'll have three and the next we'll have four. I hope it continues to grow."
'Everything around me is tech'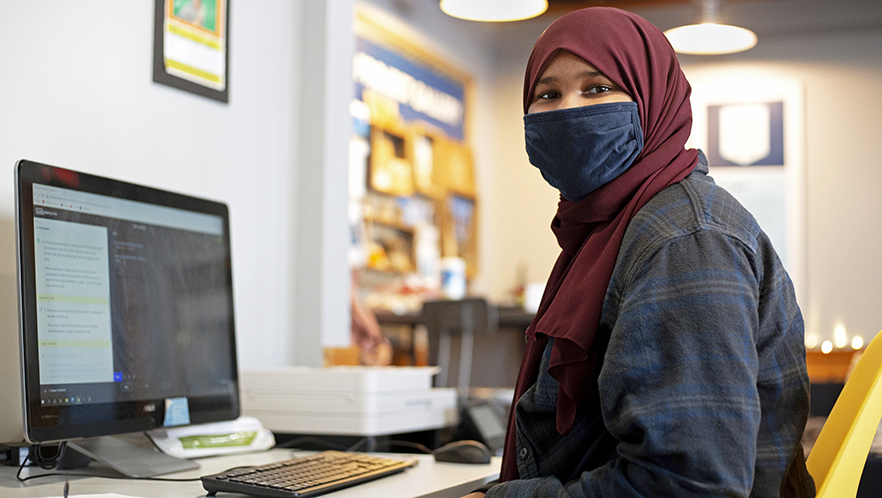 High school sophomore Anzal Musse is one of the young women participating in the coding camp. She got involved because she wants to be a pediatric surgeon when she grows up and knows that technology is increasingly becoming a part of health care.
"Tech is the new thing in the world, and every career is going to have to have some knowledge about tech," she said.
She loves that the coding camp is just for girls and knows that her new skillset means that she can provide representation for other young women.
"I can become a role model to other people in my community, and the fact that I'm a Muslim Black woman means I can be a role model for Muslim and Black girls," she said.
And in an ever-evolving world, both representation and tech education are becoming more and more important.
"I always thought if I'm going to be a lawyer or in the medical field, I don't need to know anything about tech. But everything around me is tech," she said. "Everything is changing. You have to change with the world, or you're going to be left behind."
As part of our broader inclusion and diversity efforts, we've committed to expanding to more than 100 Best Buy Teen Tech Centers by 2025. Click here to learn more.