With a brand-new class each summer, the Best Buy internship program has benefited many employees throughout its existence. This year, over 200 interns have joined Best Buy's corporate team hoping to learn and grow professionally.
In honor of National Intern Day (July 28), five Best Buy interns from 2021 reminisced on their experiences and memories of their summer. From working on passion projects to making some of their closest friends, they all learned new skills and got an inside look at potential career paths. Some are now full-time Best Buy employees.
Here's their advice for current and future interns to make the most of their summer internship:
Attend the events
From Candid Conversations to the Executive Speaker Series with top company leaders such as CEO Corie Barry, events bring interns together and help them feel like part of the company.
Evelline Samson, a previous tech intern, returned this year to intern with the Emerging Talent team.
"My supervisor last summer was really big on encouraging me to get what I need out of the internship, whether it was on his team or not," Evelline said.
That encouragement led her to attend intern events and find a new passion.
"This place is all about pushing toward being a better environment for its employees, and the events highlight that," Evelline became interested in the Emerging Talent Team and is now working with them, planning and hosting events for current interns.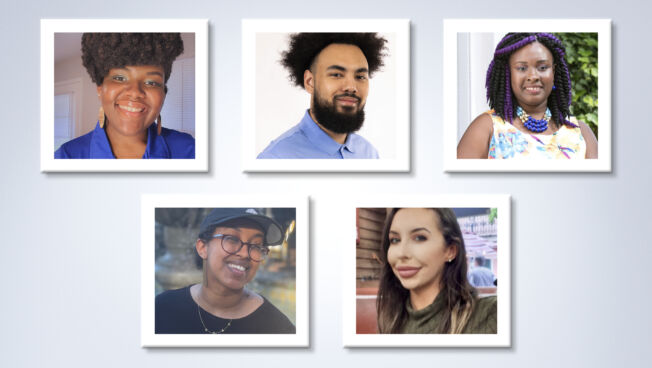 Embrace the culture
Heather Flynn, an associate engineer, described the atmosphere at Best Buy as a key factor in her love for the company. As a software engineer intern, Heather could immediately sense the focus Best Buy places on work-life balance. Before becoming a 2021 summer associate, she worked as a seasonal cashier at a Best Buy store in high school.
"I had a really good experience as a cashier. The people, the culture and the vibe were fun," Heather said. "When I got the internship, I had the same kind of hopes that the corporate team would carry that culture, and they did."
Sequoia Gillyard had a similar experience. After working in two Best Buy stores in 2018, she was excited for her internship on the brand marketing team last summer,
Through her internship, she not only met some of her closest friends but was free to grow personally and professionally. Sequoia was hired on and is now a lead for a marketing team. 
"Best Buy has shown me that they're really invested in my success,." Sequoia said. "I love that the company does not pigeonhole you into a certain role — they're always willing to give you a chance if you're eager to learn anything new and put your best foot forward."
Explore!
Devon Combs learned the benefits of exploring and networking with other co-workers across different departments. Devon, a previous brand marketing intern and current social media specialist, said learning to build bridges and connections with those around him was key.
As an intern, Devon took on a passion project: building a five-year plan regarding Best Buy's social media marketing strategy. At the end of the summer, he presented the strategy to leaders, executives and directors.
"Find something that you're passionate about and just go along with it, identify opportunities within the business and turn that into things to try for yourself and also the company," Devon said.
Confidence is key
Another valuable outcome of the internship was gaining confidence.
Kloe Mallard worked at a Best Buy store before her internship on the external communications team. She is now a specialist on the events team, and her advice for interns is all about having the courage to push yourself.
"Reach out to other people around you, speak to them, make time. Take that chance, be bold, be brave," Kloe said. "Just reach out and try to connect with people who are in the area you're interested in."
Sequoia found that taking bold action can have a big impact.
"Speak up and share your ideas," Sequoia said, "You never know, your ideas may become a company initiative."
Best Buy summer intern class of 2022, you heard it here. Put yourself out there, make connections along the way and most importantly don't forget to have fun.
Click here to learn more about our internship programs and how to apply